FFDP's Jason Hook Reveals The Secret Of The Band's Rhythm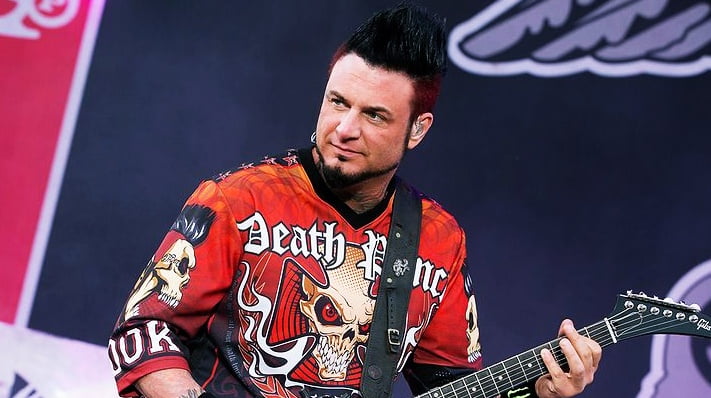 In a new conversation with Justin Beckner of Ultimate Guitar, Jason Hook, the guitarist of the American heavy metal band Five Finger Death Punch, who's name comes from kung fu cinema, has talked about what gear he used to, and revealed where the rhythm of the band came.
When the interviewer Justin Beckner said, "I feel, the staple of your music – the aggression. I think your tone really drives that home. What gear have you been using to get those tones?", Jason Hook replied said he is the gear nerd of the band and continued:
"This is how we do it. This is the truth. We profile our favorite amps into the Kemper. Currently, I'm using an EVH brand amplifier – The Stealth. It has this incredible aggressive, tight, raunchy, thick, rich tone. It's got teeth. It's a great amp.
"So we profiled that into the Kemper. So that's one sound. Then, oddly enough, and this might surprise some people, but since day one, we've always used the [Line 6] POD Pro. It has this really interesting, compressed, beefy, sound to it."
While Jason talks about the rhythm of the band, he said that the rhythm they use became the band's signature.
"On its own, I'm not that nuts about it, but when you blend it with the EVH Stealth, it gives it this bottom end plus the crunch of the mids. So our rhythm sound comes from the blending of those two sounds. We stick to that because that has become our signature sound for rhythm.
"For leads, it's a very different setup. The reason we do that stuff with the Kemper is because at any given moment, Zo [Zoltan Bathory, guitar] and I can add a part to try and we're always working with the same rhythm sounds. We both use that same sound so that either one of us can pick up a guitar, and it still fits in, sonically."
Jason Hook plays guitar with the American legends Five Finger Death Punch since 2009.