Does Alice Cooper Look Like Steve Carell? He Wants To Know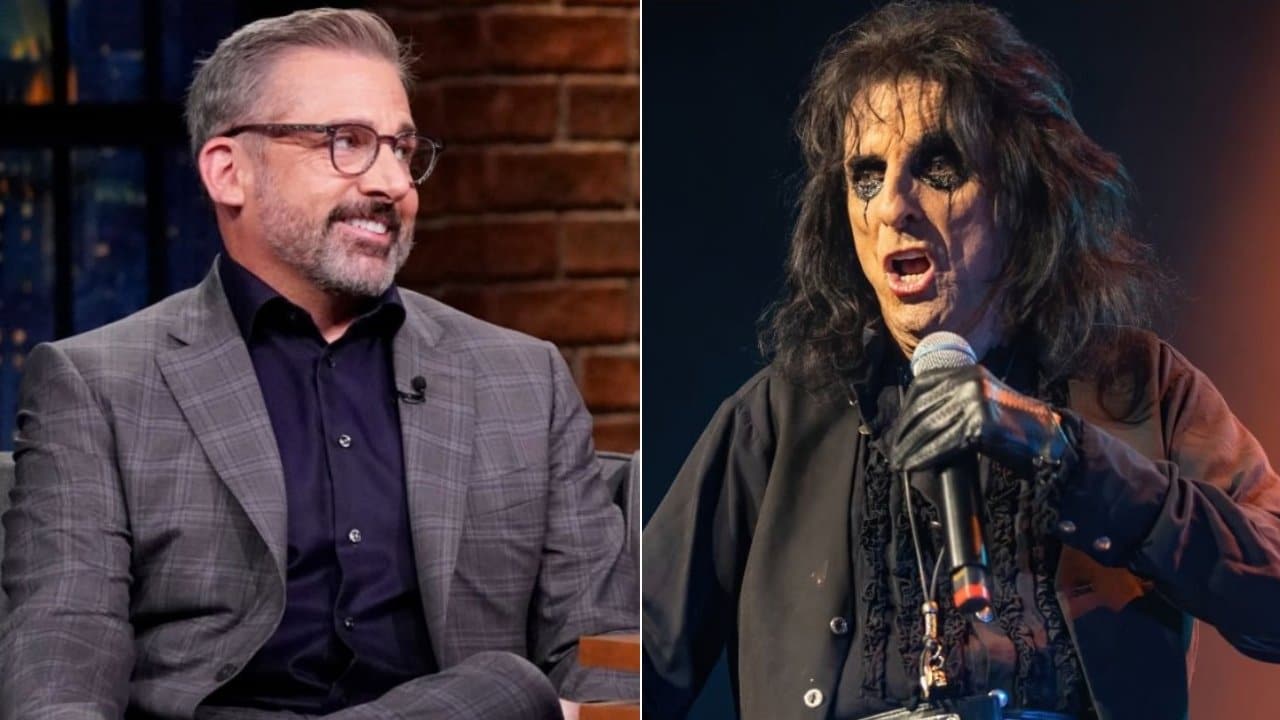 The American rock legend Alice Cooper has recently updated his official Twitter account to clarify if he looks like the world-known actor and comedian Steve Carell. It looked like they were as same as each other.
The Godfather of Shock Rock was compared to the successful actor when Carell was the guest on The Tonight Show. Elsewhere in the show, the host Jimmy Fallon brought a photo collage that featured Steve Carell and Alice Cooper side-by-side, saying, "Someone says you have a doppelganger out there." In the photo, both artists were smiling.
After Fallon showed off the photo, Steve Carell shared a piece of words about his comparing it to Alice. Recalling the time he met with Cooper, Carell said at first that Cooper behaved incredibly great to him.
"I see it," Carell said. "I met Alice Cooper I waited on him… When I was waiting tables, I was working at a restaurant he came in and he was Alice Cooper! And couldn't have been nicer, sweetest guy in the world.
"He walks into a room and he's unmistakably Alice Cooper!"
However, after Cooper saw the moment on Twitter, he quoted the video and added his thoughts on the issue. Asking fans what they think about Steve Carell's comparing to himself, Cooper looked confused.
"Hmmm… what do you think?," Alice asked.
hmmm… what do you think? https://t.co/GF4yELfKgo

— Alice Cooper (@alicecooper) June 29, 2022
Fans Answers If Alice Cooper Looks Like Steve Carell
In the reply section, Cooper fans answered if the comparison was right. There was also a familiar name that answered the question below the tweet of Cooper. David Draiman from Disturbed was that person.
"It's like @howiemandel and I lol," Draiman said.
It's like @howiemandel and I lol 🤘🏻

— David Draiman (@davidmdraiman) June 29, 2022
Besides Draiman, a fan named Heather said there was a resemblance.
"Wow," she tweeted. "Never noticed that before. But yeah there is a resemblance. Alice is far cooler, and sexier tho!"
Wow. Never noticed that before.but yeah there is a resemblance. Alice is far cooler.❣️and sexier tho!😍

— Heather (@Heather90248543) June 29, 2022
You can find more replies below.
Alice DOES look like him!

— StevenIA (@StevenIA247) June 29, 2022
https://twitter.com/RavinEmerald/status/1542166646260830208?s=20&t=ZVLBLhZ9D2dDCK0MBbKMDQ
I see the resemblance, but I'm not sure I'd go as far as doppelganger. You're both awesome and that's what matters. 🤷‍♀️

— Victoria Stradtner (@vstradtner) June 29, 2022
Back this past June 20, Alice Cooper had fired back at Gene Simmons who thought that "rock is dead." Cooper showed off his disagreement when Simmons said the main problem is not just money, adding that the rock industry has not been able to produce the new The Beatles for a long time.
"Gene Simmons said rock is dead but I think he was talking financially," Alice says. "I think there are kids in garages right now learning Guns N' Roses, learning Aerosmith, learning Alice, learning Ozzy… Young 16-year-old kids rocking, just rocking. That's healthy. That's really healthy. I don't think rock is ever gonna die.
"When you talk about hard rock, like the Stones, The Who and all that, that's the only music that's lasted. Grunge was here for a while. And punk was here for a while. Emo was here and all this, but hard rock bands just kept going. So if you're in a hard rock band, you can go as long as you want to go.
Cooper then added that bands like Foo Fighters and Green Day have carried the flag of rock for a long time.
"Well, you've got your certain bands – you know, Foo Fighters still going," he continued. "Green Day, things like that.
"I kind of look at this a little bit differently. There was a time when we first started playing, that rock bands were outlaws. We were on the outside looking into the party and we weren't invited to the party. It was more pop music and dance music and disco.
"I think we're back to that point. I think it's kind of healthy that rock bands now are not number one, number two or number three. We're back to the point of being rebels again."