Dave Grohl Recalls His Joining To QOTSA While Foo Fighters Struggling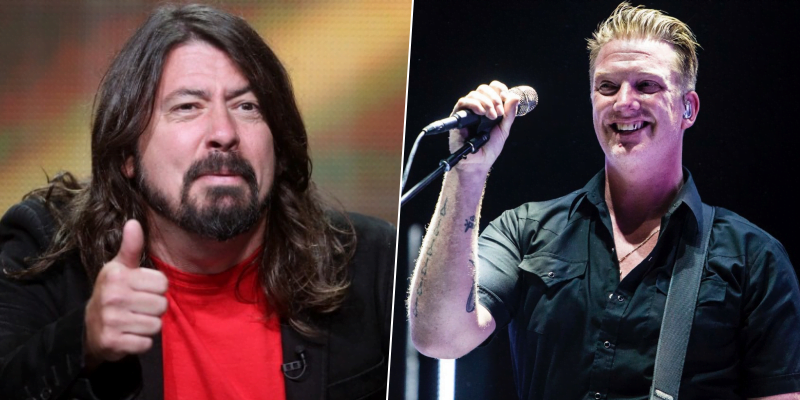 In a new conversation with The Bill Simmons Podcast, Dave Grohl, who formed Foo Fighters in 1994 following the unexpected suicide of Kurt Cobain, who's old bandmate from Nirvana, has recalled the time his joining Queens of the Stone Age for the band's third studio album, called Songs for the Deaf, during Foo Fighters' recording its fourth album, called One by One, which was released in October 22, 2002.
Dave Grohl revealed that the things are weird at Foo Fighters' line at that time.
"The thing that got weird with us was: I had, we were making a record and it just wasn't working out – our fourth record. It just didn't sound good, it didn't feel good, we weren't into it."
Dave Grohl mentioned his close friend Josh Homme's invite him to Queens of the Stone Age. He also didn't pass without stating that Queens of the Stone Age was his favorite band.
"In the meantime, my buddy Josh from Queens of the Stone Age had just bailed his drummer. He said, 'Dude, I've got two weeks. Could you just come do the drums on my record?'
"They were, like, my favorite band, they were amazing. We're good friends, we've known each other for 30 years, a long time. I thought, 'Yes! I get to play on a Queens of the Stone Age record.'"
Dave added that the recording with Queens of the Stone Age was great.
"So we go on to record with Queens, and it was kind of the opposite of what we were doing. What we were doing was, 'Alright, let's just put this bass down.' The Queens of the Stone Age thing was this collective lightning bolt, 'Let's do this!'
"Tracking live, and you're in the same room, face to face, it was fucking mean and hungry. It was great. So I go do that, and it is fucking badass. I was, like, 'This is good.'"
https://art19.com/shows/the-bill-simmons-podcast/episodes/bdfa93bc-b58d-44d7-9376-226f918e8f2f