Alex Richichi of The Offering Talks Origins, Seeing the Elephant & More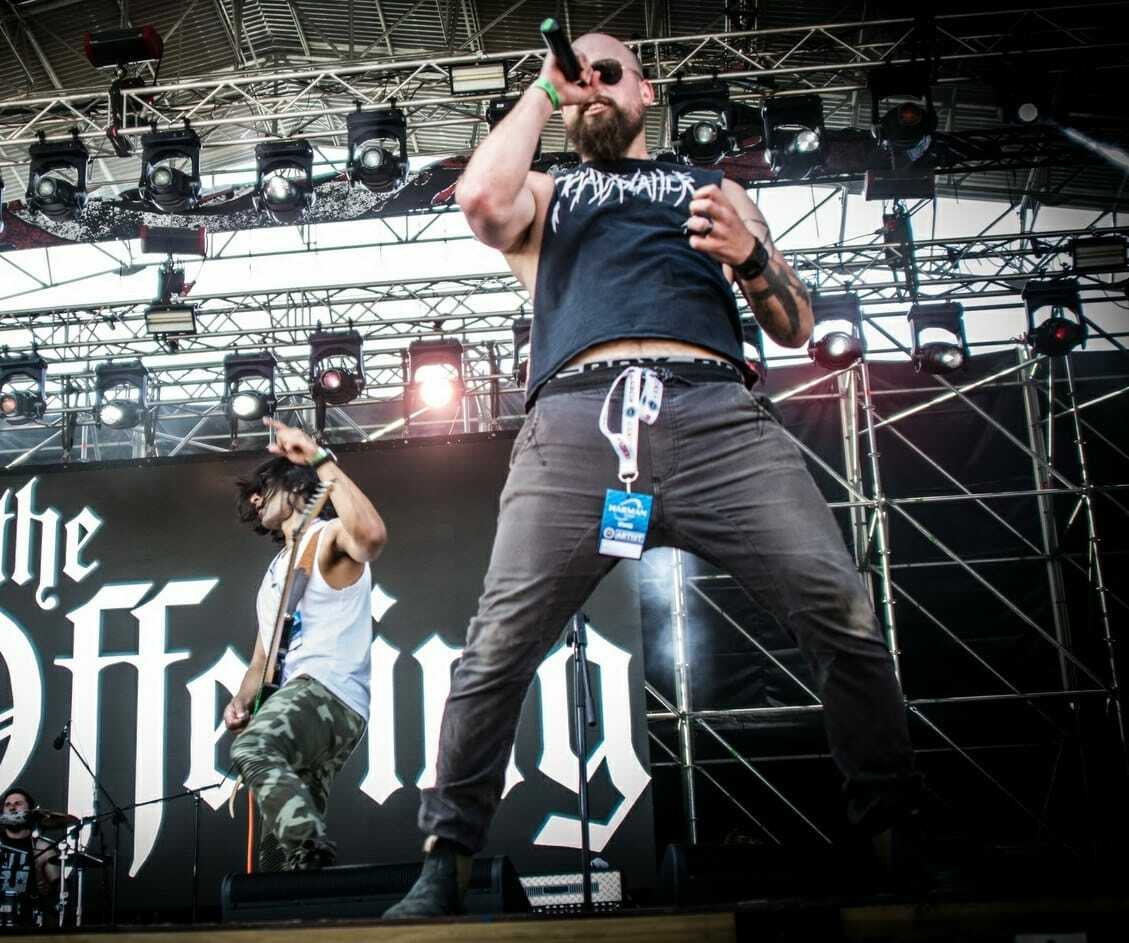 All images courtesy of Breaking the Law PR
The current metal scene is teeming with explosive talent biding its time, waiting to be unleashed. And over the last several years, multitudes of bands have staked a claim to their portion of the lion's share.
Many try, but few succeed, and to that end, The Offering's latest record, Seeing the Elephant is a verifiable tour de force in heavy metal sublimity. Loaded to the brink of explosion with memorable moments via intrinsically crafted moments, Seeing the Elephant is the perfect anecdote to all that ills metalheads of all ages.
Now able to rest after the COVID-19 pandemic left him perpetually pushing the envelope, The Offering's Alex Richichi checked in with Metal Castle to run through the gamut of his career to date.
Andrew: What was the moment which first sparked your interest in music?
Alex: The earliest memory of music is a sequence of still images and feelings. I remember a large family gathering, a bonfire, the darkness, and standing on a stump, singing. I remember the comparison to some distant relative, the smell of booze, and slurred compliments from kin. I remember the attention, a different kind of attention I was used to. I had a brash spirit, and singing seemed more positive and less chaotic than acting out. It was as if I could control the attention rather than be the center of it. I was young, maybe four or five, but it was the beginning of exploring that feeling.
Andrew: Who were some of your earliest influences?
Alex: I am the result of my time. Ages 10 to 15 were dominated by nu-metal, notably Linkin Park, System of a Down, and Billy Talent, which bled into the Warped Tour world: AFI, Hawthorne Heights, and Static Lullaby. My father is a mid-80s Styx and Foreigner type; my sister introduced me to Green Day, Ataris, and Weezer, while my mom had me participating in plays: Rent, West Side Story, Chicago, etc. From ages 16 to 19, I focused on classical singing and fell in love with the romance of Schumann, Schubert, and Strauss. Between high school and college, I toured with a bluegrass band and traveled the country looking for americana musical folklore. It wasn't until college that I rediscovered my love for extreme music and dove down the rabbit hole of the obscure metal sub-genres I am also inspired by today.
Andrew: How would you say that style has evolved?
Alex: I think singing is about the act of mimicking until one gets the confidence and the recognition to be unique. Earlier in my career, I definitely tried to flatter others by "gifting" them with a similar voice they are comfortable hearing, à la Robert Plant, Rob Halford, or Freddy Mercury. It wasn't until the band signed with Century Media that I decided to sing like myself – in any way, in any style, to serve the song and its meaning. Singing instantly became more enjoyable and rewarding as I started embracing my own style rather than replicating others.
Andrew: What were some of your earliest gigs?
Alex: Many talent shows come to mind – acoustically performing in front of the entire school and their parents, singing about some ex-girlfriend that destroyed my fragile adolescent ego with some lyrical jabs. This evolved to basement shows throughout college in Boston – hanging from rafters, kicking people in the chest, and wearing outrageous performance wear. The freedom of the basement punk shows gave me a platform to experiment in style… while the alcohol and weed gave me the confidence to put my hypotheses into practice.
Andrew: Can you recount the formation of The Offering?
Alex: The band was named in 2015 by my mother. After dropping out of Berklee College of Music, I had the idea of forming a metal band and taking a shot at making it big. In the beginning, we wrote an EP and moved to Tampa, Florida (of all places) to play in a lively local scene and attempt to get signed. We made every mistake possible and got lucky when we needed to. We fumbled record offers and had mutinied, but ultimately the music grabbed the attention of Century Media, and a deal was penned.
All images courtesy of Breaking the Law PR
Andrew: Let's dig into your newest album, Seeing the Elephant. Tell us about its inception.
Alex: The idea was to make an album bordering journalism and commentary. With Nishad able to create such elaborate theatrical songs, it was my responsibility to match his sophistication with vocal integrity and literary weight. Being an avid reader, I respect the power of words, and choose each lyric to create an emotional response – good and evil, cringe or satisfactory. We also, collectively as songwriters, don't want to participate in the traditional metal-scene escapism – like high fantasy and vampires or whatnot. We wanted to document the time we live in since we felt it needed to be remembered – the lockdowns, rise of theocracy, BLM in protests, and the empathy of the Me Too Movement.
Andrew: Which track holds the most meaning, and why?
Alex: The title track, "Seeing the Elephant," is a short but riotously earned song that represents the overall horridness of 2020. The loathing, fear, pounding of drums, and haunting melody came to me through the sounds of rubber bullets and toxic gas fumes. The repetition of the melody, like the repetition of disrespect, hate, and violence, loops – building to more injustice and helplessness. It should make you feel something.
Andrew: From a songwriting perspective, how have your collective experiences affected the music?
Alex: I take a destructive self-analysis approach to writing. This lack of self-preservation allows me to relive trauma and bath in its mood momentarily. I am also inspired by "The Method," as actors do, and "Gonzo" journalism, which traditionally forces me to participate in the events I write about. This gives the lyrical content meaning (and sometimes cliches) because it's coming from personal or forced involvement. I try to write honestly, which often results in my speaking to my personal experiences and opinions.
Andrew: How about the production mixing side of things? Take me through that process and how the final sounds were honed in.
Alex: Recording during COVID was an experiment. For the first time, we had to record without the band present and rely on Nishad (guitar player and producer) even more during the process. Nish was capable of organizing stems and getting the performances out of everyone with very short visits. Personally, I recorded all of the vocals alone and then had a weekend session with Nish to finalize each take. From there, he and Zach Weeks at God City Studios tinkered and methodically created the palette that is the "Seeing the Elephant" sound – blending endless amounts of organic as well as programmed instruments and vocal layers. It was then mastered by Alan Douches.
All images courtesy of Breaking the Law PR
Andrew: What lyrical themes are you delving into, and why are those important to you?
Alex: For the most part, the lyrics will be the focus of some controversy, with topics spanning the ongoing American culture war. With firm opinions against the American theocracy movement, authority, and free speech topics spanning police brutality, suicide, violence, sex, and rape. The term "Seeing the Elephant" is an American Civil War-era term that means gaining experience of the world at a significant cost. This album reflects the world we live in and documents the feeling and language being used today.
Andrew: What five albums have most shaped your musical life, and why?
In no particular order:
Disney's Hunchback of Notre Dame Soundtrack: It was my first introduction to the grandiosity of a choir.
Rent (original Broadway cast): Rent played in my father's car to almost every hockey game I ever played. With countless hours of driving, I memorized every line and every part. Still today, I enjoy singing and crying through the play from start to finish.
Van Halen – Van Halen: "Sit down," my father said through a knowing smile before he pressed play on track 2, "Eruption." It's an archetypal story, but it changed my life forever.
Nick Drake – Pink Moon: Nick Drake's Pink Moon reminds me of simplicity and perfection. Raw emotion can stand up to complicated educated musical arrangements. To feel is more important than to be in awe.
System of a Down- Toxicity: Finding a Toxicity CD under a bench at my hometown's basketball court as a tween was almost divine intervention. The songwriting ability, the blending of violence and beauty, and the vocal-focused two-part harmonies sang messages worth sharing. I still think of how Daron Malakian's political commentary shaped how I think today.
Andrew: What's next for you in all lanes?
Alex: Honestly, I don't know. I've been out of control for a while now and haven't fully taken control of my career or artistic ambitions since the lockdown. I hope to tour and sell enough records to justify Century Media investing in the next album. I am perpetually working on a solo acoustic album, poems, short stories, and a book, but I haven't found anyone who wants it. My life and my art are in the hands of The Offering's current and potential fans.
All images courtesy of Breaking the Law PR
– Andrew Daly (@AJDWriter88) is a contributing writer for Metal Castle and may be reached at andrew@vinylwriter.com