The 5 Albums David Gilmour Listed As His Favorites Of All Time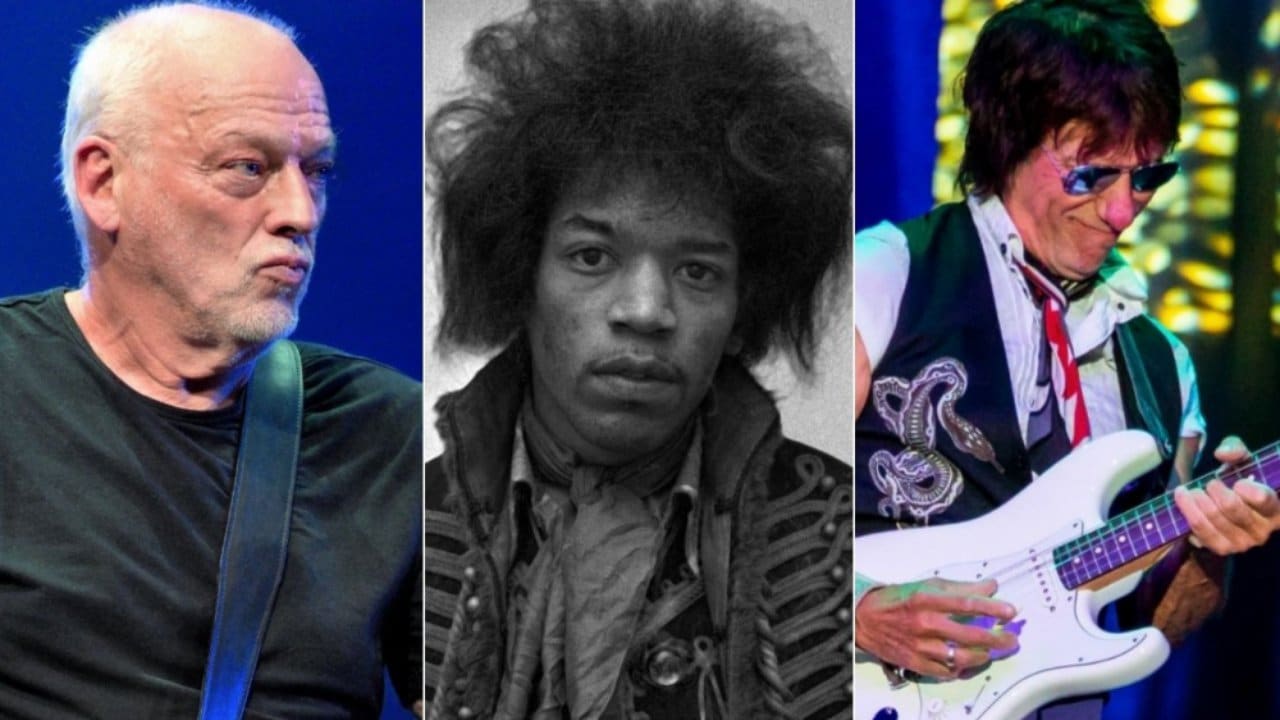 If you wonder what are the 5 albums Pink Floyd legend David Gilmour listed as his favorites of all time, you are on the right website. In 2017, he interviewed with Guitar Tricks Insider to mention this and revealed some of his favorite albums in music.
The English singer David Gilmour gained international fame for being a member of the rock band Pink Floyd. Starting his Pink Floyd career when the band's co-founder Syd Barrett left the band back in 1967, Gilmour's contribution to the band is undeniable, as he performed in entire Pink Floyd albums except for the band's debut, The Piper At The Gates Of Dawn.
Although he influenced a lot of musicians throughout their musical journey, there are also things that David considers himself a light, which helped him develop his music and, perhaps, significantly contributed to his creativity. As some of you might agree, some of his favorite albums are his main inspiration. Let's look at his favorite albums, as he revealed in his interview with Guitar Tricks Insider.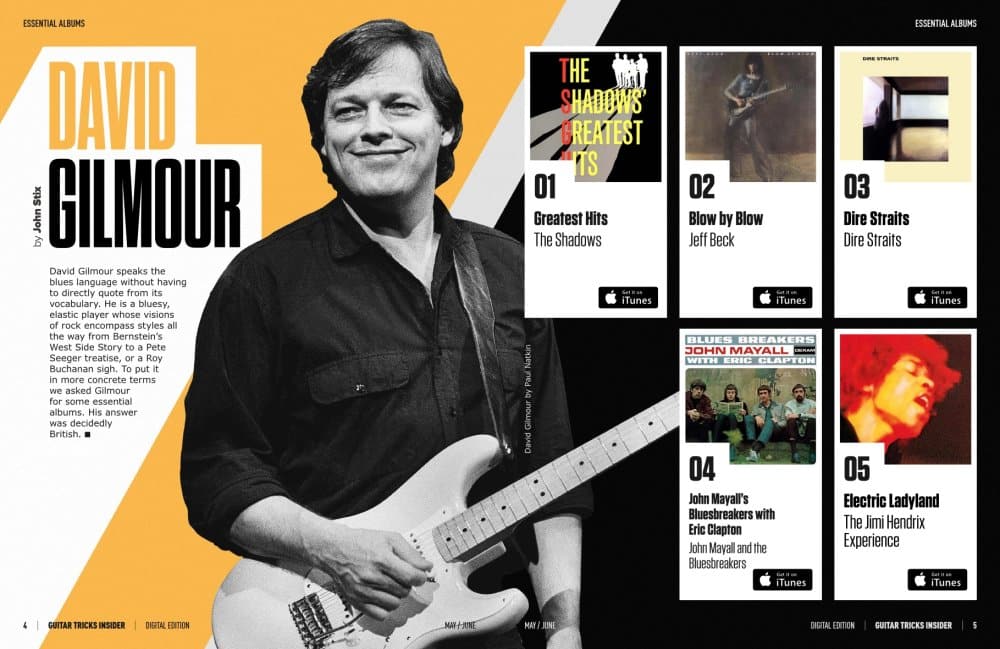 The 5 Albums David Gilmour Listed As His Favorites Of All Time
5. Jeff Beck – Blow By Blow
Jeff Beck is one of the most important rock and roll musicians who worked with great musicians such as Ozzy Osbourne, Jon Bon Jovi, Rod Stewart, and more. He is a great fan of the guitar legend Jimi Hendrix.
Focused on Jeff Beck's musical career, he came to world prominence with The Yardbirds. He then continued his career fronting The Jeff Beck Group and being a part of the supergroup, Beck, Bogert & Appice. At press time, the legendary artist received 6-time Grammy Awards and has been inducted into the Rock and Roll Hall of Fame twice.
However, there was a piece of words sent from David Gilmour to Jeff Beck in Jeff's new documentary, Jeff Beck: Still On The Run. In his speech, Gilmour shows how he loves him.
"For many people, musicians and fans alike, Jeff Beck is the greatest ever British guitarist," he said. "For more than 50 years he has blazed an uncompromising trail across the musical landscape. Always an innovator, never a follower, Jeff has steadfastly refused to pander to the demands of the record industry.
"This maverick attitude required some difficult career decisions; he left The Yardbirds at the height of their popularity, deserted his own group days before their billed appearance at Woodstock and often shifted his attention to his other great passion of building hot rods rather than continuing a tour or returning to the studio."
4. The Shadows – Greatest Hits
The British instrumental group The Shadows' 1963 compilation album, Greatest Hits, was another album that David Gilmour picked as one of his favorites. Recorded between 1960 and 1962, the album peaked at number two on the UK Albums Chart, spending 56 weeks.
The album has a lot of great songs in itself. Featuring two different sides, the disc one includes 7 songs in total and hit songs such as Apache, Midnight, The Frightened City, Man of Mystery, and The Stranger. Disc two includes 8 songs in total. Some of them are The Savage, 36 24 36, Stars Fell on Stockton, The Boys, and Peace Pipe.
3. Dire Straits – Dire Straits
In the interview, David Gilmour named Dire Straits' self-titled 1978-release as one of his favorite albums of all time.
The album was the band's most successful album to date. The album was certified 14x Platinum for its extraordinary success. It also peaked at number 2 on the US Billboard 200 chart. The band's vocalist Mark Knopfler led the band and album to reach international success.
In 1985, David Gilmour had opened up about his passion for the band's singer Mark Knopfler during his interview with Guitar Classics.
"Mark Knopfler has a lovely, refreshing guitar style," he admits while he was talking about the vocalist's inspiration. "He brought back something that seemed to have gone astray in guitar playing. These days I don't listen to other people with the objective of trying to steal their licks.
"Although I've got no objections to stealing them if that seems like a good idea. I'm sure that I'm still influenced by Mark Knopfler and Eddie Van Halen as well."
2. John Mayall & The Bluesbreakers – John Mayall's Bluesbreakers with Eric Clapton
Blues Breakers with Eric Clapton is a studio album by the blues-rock band John Mayall And The Bluesbreakers, released in 1966. It features 12 songs in total and has full of stars in reviews from critics. The album was number 6 on UK's UK Album Chart in 1966.
When Gilmour shared his thoughts about the band, he said: "All of those guys were incredible. I spent time trying to learn how to play their licks perfectly. I would suggest any young player should try to sit down and do that. You will wind up knowing how to play their stuff quite well.
"But eventually you will find your own style form that. It forces its way out of the copying."
1. Jimi Hendrix – Electric Ladyland
Electric Ladyland by Jimi Hendrix was the other album picked as a favorite by David Gilmour.
Jimi Hendrix was a legendary guitarist who is widely regarded as one of the greatest artists in the world of rock and roll. As he was inducted into the Rock and Roll Hall of Fame in 1992, Hendrix changed the way of rock 'n' roll throughout his insane career from 1963 to 1970. Although he passed away on September 18, 1970, Jimi Hendrix's legacy has continued to be an inspiration for the world of rock and metal.
In 2019, David Gilmour revealed how he mixed Jimi Hendrix's sound at the Isle Of Wight.
"I helped mix the sound for Hendrix at the Isle of Wight in 1970," Gilmour says. "Not a lot of people know that. From the side of the stage with WEM Audiomasters with Charlie Watkins.
"I went down to go to it and I was camping in a tent, just being a punter and I went backstage where our main roadie guy, Peter Watts, was trying to deal with all the mayhem, with Charlie Watkins of WEM.
"And they were very nervous. They were going to have to mix Hendrix's sound. I did some mixing stuff in those days and they said 'Help! Help!' So I did."