Ronnie Wood Says Jeff Beck 'Always Put A New Angle On Something'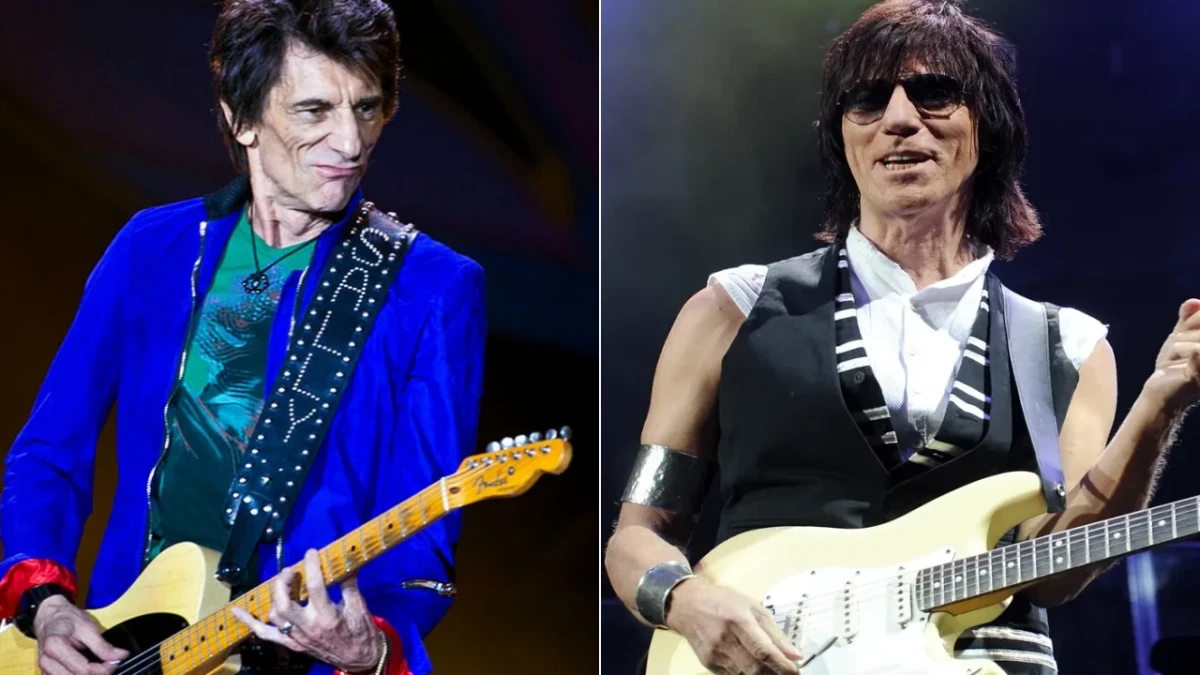 The Rolling Stones legend Ronnie Wood paid his tribute to the late guitar master Jeff Beck, who passed away at age 78. Wood recalled the years they spent under the name Jeff Beck Group.
Jeff Beck came to world prominence during the mid-1960s as a member of The Yardbirds. Years later, he formed and fronted his own band, Jeff Beck Group, which featured Jeff Beck himself on guitar, Rod Stewart on vocals, and Ronnie Wood on rhythm guitars, with several bass players and drummers, changed from time to time. However, the band recorded and released singles in Europe and the United States during its early days. The band's most notable song was Hi Ho Silver Lining, which reached number 14 on the UK singles chart. In 1969, the band took hiatus.
Beck's legacy is far-reaching, with his influence felt across many genres of music, including rock, jazz, fusion, and blues. He is credited with pushing the boundaries of electric guitar playing and inspiring generations of musicians with his technical prowess and creative vision. Throughout his career, Beck has collaborated with a wide range of artists, including Jimmy Page, Eric Clapton, Rod Stewart, Stevie Wonder, Ronnie Wood and many others. He also released numerous solo albums, including classics like Truth, Wired, There & Back, and Blow by Blow.
One of his contributors, Ronnie Wood, recently appeared on Mojo to discuss his years with Jeff Beck. He first recalled Deep Purple member Jon Lord's reaction to their playing two guitars on stage. Wood also revealed he played some bass parts and left Jeff Beck alone on guitars.
"Well, at first it was me and Jeff playing guitar together," he says. "We did a gig at the Marquee or the 100 Club, and I remember Jon Lord said, 'That sounded so amazing with the two guitars!'
"Jeff was not particularly allowed to be Jeff with two guitarists, so he said, 'Would you mind playing bass?' Perfect for me, I was up for the challenge."
Ronnie Wood Reveals Jeff Beck's Creative Side
Elsewhere, Ronnie Wood mentioned what made Jeff Beck special. The guitarist commented on the late legend's private life. According to him, he was so creative and always aimed to put a new angle on something.
"He was always the one in the corner saying, 'Listen to this! Have you heard this? Can you play this?' 'No, Jeff, but I'll have a go.' He was always creating something new, putting a new angle on something," Wood says. "Sometimes he'd go too far, but that was Jeff."
Ronnie Wood then looked back on the last time he saw Jeff Beck. Saying that it was five years ago, the guitarist admitted he would miss him.
"At Ronnie Scott's, for my Chuck Berry tribute album," Wood recalls. "He came down with Johnny Depp, Imelda May was singing. We played some bluesy jam. On-stage, he liked to take the foreground. He liked to be heard. I'm really gonna miss him.