Metallica's James Hetfield Recalls What Cliff Burton Thought On The Band's Legendary Albums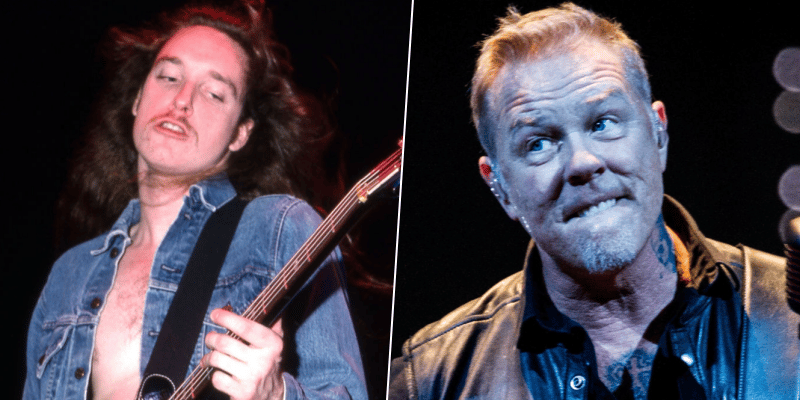 The 39-year heavy metal band Metallica frontman James Hetfield recalled the golden days he lived during Metallica's "Black Album" and "Load" era and revealed Cliff Burton's thoughts about those albums.
During an archived conversation recently shared via Metal Hammer, James Hetfield took fans back to the band's "Black Album" and "Load" era and touched Metallica's legendary bassist Cliff Burton.
When the interviewer asked, "What would Cliff have made of some of the directions the band went in the 1990s? Beginning with the Black Album in 1991 up to the time of St. Anger in 2003?", James Hetfield replied he certainly would have thought there would have been some resistance.
"I think the 'Black Album' was a great album and I appreciate the fact that we did have the balls to do that and have Bob Rock to work with us, he continued. It had to be, it really did.
"You know, when I go back and I listen to '…And Justice for All,' it couldn't have stayed on that path. We needed to bring in another set of trusted ears.
"But I think Cliff would have probably interjected some different stuff, getting his bass heard and some more musically challenging things, probably."
While continues to his words, James Hetfield explained the reinvention of Metallica.
"I would certainly think that the 'Load' and 'Reload', I would have had an ally that was very against it all – the reinvention of the U2 version of Metallica."
After his "ally" word, the interviewer asked him that if he was not comfortable with the band's '90s period. James Hetfield replied:
"No, no, not at all. There are some great, great songs on there but my opinion is that all of the imagery and stuff like that, was not necessary.
"And the amount of songs that were written was… it diluted the potency of the poison of Metallica. And I think Cliff would have agreed with that."
Metallica has recently posted a new version of "Blackened" and showed fans that they didn't empty during coronavirus lockdown. Also, in addition to the new version of the song, Lars Ulrich, drummer of the band, revealed that Metallica could make a new album during the quarantine.
Cliff Burton, who joined Metallica after the departure of Ron McGovney in 1982, died at the bus crash on September 27, 1986, at the age of 24.