Led Zeppelin Studio Engineer Explains The Truth Behind Jimmy Page's Playing Acoustic Guitar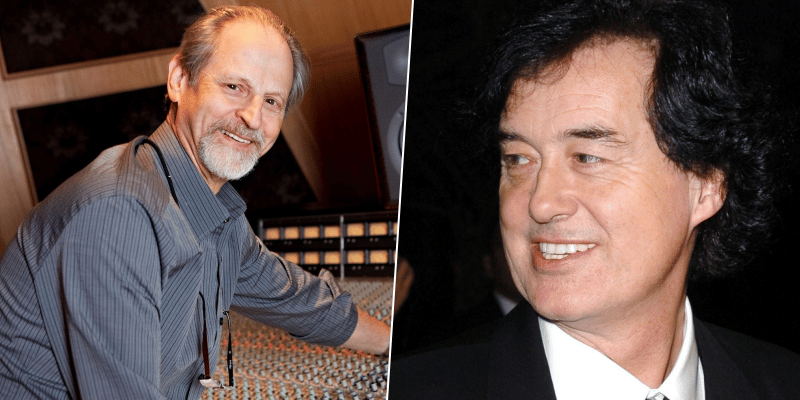 The English rock band Led Zeppelin's studio engineer Eddie Kramer, who appeared in the band's five albums' recording of the total, appeared with the Gibson for the Q&A session and talked about the band's guitar legend Jimmy Page's success and playing style.
When the interviewer touched his latest conversation with Jimmy Page, he said that they talked about his acoustic guitar playing, but added that they didn't touch much on his playing. The interviewer, who read that Jimmy was fond of using a limiter on his acoustic guitar, asked him that can he give any insight on what Jimmy was like as a player, and how he went about recording his acoustic playing, Eddie replied:
"I think Page was so influenced by the well-known English acoustic guitar player, a guy named Jansch, a big influence on him, and there were many more names which I cannot remember.
"He was an incredibly good acoustic guitar player, still is. I mean, his touch is tremendous, as we see on all the live footage of them, Jimmy has a spotlight on him, he's going to do his acoustic part and then the band comes in, it's fabulous."
He touched the acoustic guitars' importance in English music. Eddie also touched the part of what sent Led Zeppelin away from everybody else.
"The acoustic guitar plays such a huge role in English folk music, and the way Jimmy was influenced by it, you can hear it in Zeppelin on so many of their songs.
"And the integration of acoustic guitar and electric guitar, and then John Paul Jones' keyboards, the organ, the musical influences, I think, being very sophisticated, very far-reaching, that was part of what sent Led Zeppelin away from everybody else.
"Nobody had done that. And then Robert's voice, and the bluesy thing… And yeah, an amazing guitar player, love all of that."
Watch the full interview below.