KISS' Gene Simmons Thinks 'There's Something Clinically Wrong With Kanye West'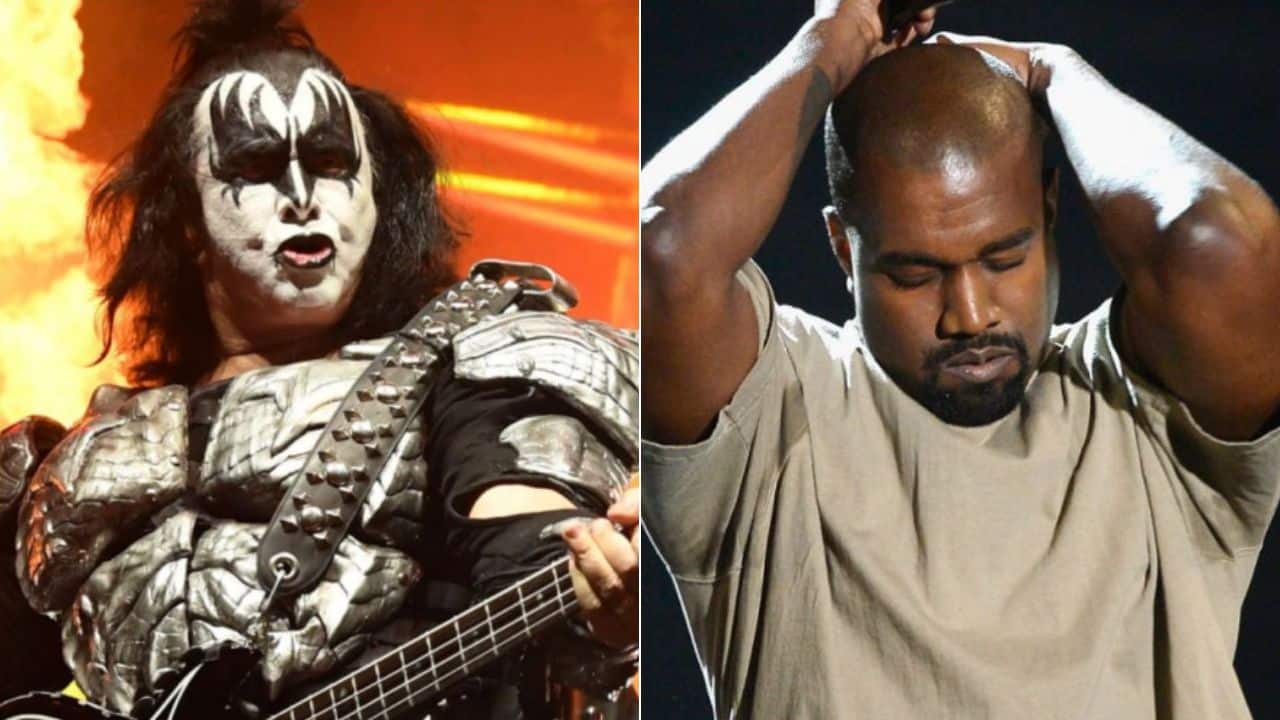 Kiss' legendary bassist Gene Simmons appeared in front of TMZ's cameras. In the short question and answer session, Simmons was asked about the Kanye West – Kim Kardashian separation, which is on the top of the agenda these days.
Having made their voices heard in the rock world with their different styles and remarkable stage performances in the mid-70s, KISS is one of the most successful bands in the US ever. Having won 30 gold albums to date, KISS is the band that has won the most gold albums in the US. Selling 75 million copies to date, 21 million of which are RIAA certified, KISS is one of the best-selling bands in rock history.
Gene Simmons, known for his stage style as The Demon, is one of the founding members of KISS. Having taken part in 20 studio albums with KISS, Simmons has contributed to his band's every one of releases. Out of his tenure with KISS, Simmons has released two solo albums to date. Besides his musical appearances, Gene Simmons also took part in many film projects.
On the other hand, Ye and Kardashian, who announced their decision to divorce last year, got divorced a few days ago. Although the couple had been dated many other people during their separation process, Kanye could not get over Kim Kardashian's relationship with Pete Davidson for a long time, and he provoked Davidson on social media many times.
However, when Simmons asked about the ex-couple separation process, the singer offered constructive comments about the situation. Stating that Kanye is a talented and good person, Gene Simmons said that he should get psychological help to get through this process.
"For the record, [Kanye West is] a talented guy," Simmons said. "There's no question about it. He's out of his mind… This is your wife, the mother of your children. It's not childish. There's something clinically wrong with him, as he's admitted."
When the reporter asked Gene Simmons about Kanye's restraining order against Kim's new boyfriend Pete Simmons said: "You don't need to do that. Pete's a cool guy [who] takes the high road. Just ignore it. At a certain point, if everybody misbehaves, they get bitchslapped…"
Gene Simmons Says Kanye West Needs To 'Get A Hobby Leave Kim Kardashian Alone'
Later then, Simmons gave some advices to Kanye West on his separation and obsession about Kim Kardashian. Saying that Kanye has a lot of things and can do whatever he wants, Simmons stated that Kanye should leave Kim alone so that she can make his own decisions.
"It's, like, guy, you've got a roof over your head, you've got food in your tummy," Simmons continued. "You can do whatever you want. Get a hobby. That's better. Leave him alone. Move on. Love your kids. Love the mother of your kids and let her make her own decision. She's a grown-ass woman now and she doesn't need your permission."
Simmons also said the following about Kanye's new girlfriend looking like Kim Kardashian: "Being like that publicly, getting a Kim lookalike, it's childish," Gene continued. "And it's not fair to this girl who happens to resemble Kim. Good for you. You can resemble anybody or anything, but don't be a hand puppet to somebody who's playing some kind of game.
"He needs to back off. He's not a bad guy. But this is not even childish. There's something — he admitted there's something clinically wrong."
Back in this past February, Gene Simmons, who loves to talk about the music artists and their careers, had said about The Beatles that all music pieces came one place when he heard them. Recalling the band's 1964 TV show appearance, Simmons mentioned how the audience had gone crazy because of The Beatles.
"When I started listening to music – Chuck Berry, and Little Richard – it started to evolve. Then you heard The Beatles, the [Rolling] Stones, Small Faces, and then, Led Zeppelin. They're all connected [with each other], Simmons said (as transcribed by MetalCastle.net).
"All the pieces [of music] came in the place when I saw and heard, The Beatles," he continued. "They were [at] an American show called The Ed Sullivan Show, and they came on, and the audience of course was gone crazy, mostly girls.
"And they came on and they looked like they came from the same Beatle mother. They looked like brothers from the same mother; the same haircuts, same highs, and same everything. I've never seen anything like that before.
"More importantly, I realized I was listening [them] with my eyes. I mean that's words repeating, 'listening with your eyes.' The live experience is as much visual as it is overall, audiovisual.
"And then it made set, 'Wow, The Beatles, they speak with accents, they look like they come same places. And the girls kinda like 'em.
"And that's one that hit me that, 'Hey, maybe I can be one of those kinda Beatle kinda people, I don't look like I come from here, I speak with that accent, and I don't look like I fit.'
"I mean I was much bigger than those people. The English in those days were tiny, Americans were huge compared to them.
"Immediately within two years of hearing The Beatles, I started writing my own songs. I picked up the guitar, learned how to play the C and G and D chords, and started writing my own songs.
"In fact, I recorded one of the very first songs I wrote, which appears in the largest box set of all time I was just released."