Jared Dines on Eddie Van Halen: "He Was My No. 1 idol, I Actually Looked Like Him"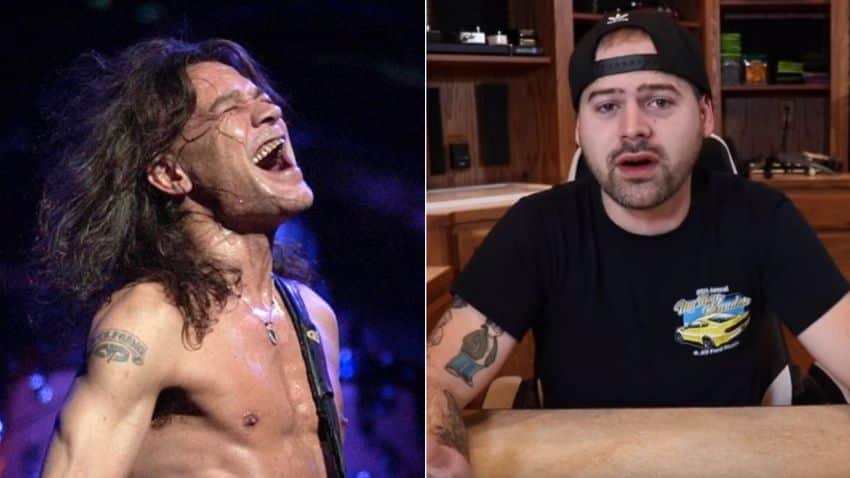 The American YouTuber Jared Dines, who is known for heavy-metal themed cover videos, original music and parodies, shared his feelings on how Eddie Van Halen's death affected him while interviewing on Ernie Ball Podcast.
Speaking about Eddie Van Halen, Jared Dines stated that Eddie Van Halen was his number 1 idol and he looks like him. He also touched on his musical inspirations.
When asked about Eddie Van Halen, Jared Dines said:
"I found after doing YouTube for six years and doing music close to 20, I found that I want something with a little bit more meaning behind it. And maybe this stems a little bit from the passing of Eddie [Van Halen].
"He was my No. 1 idol, I actually looked like him; I had hair like him – everything – when I was a kid, and obviously that was years ago, but that made me really think, like, in my life and in my existence, what has stood out as the happiest and the most exciting I've ever felt, and that is literally when I discovered Van Halen and knew I wanted to be a guitarist.
"And I wanted to play in front of people, and I wanted to write songs, and I wanted to do music and have fun. And when I think about that and the world and the news and it's, 'Covid this, 3,000 deaths and that, we're on fire and this world's burning, we're all gonna die…'
"It's just like, 'OK, maybe we should do something that's putting positivity onto the world and something that's helping inspire others and focus on things that are giving them that feeling I got back when I was a kid.'
"When you don't have a fresh pool of inspiration, it's kind of hard, because I feel like sometimes there is somebody inside of me screaming as loud as they can, and they can't get out. I think that's kind of where I'm at, I want to write songs, and I am, we're halfway through."