Exodus' Gary Holt Recalls First Met With Kirk Hammett: "He Sang An Awful Song"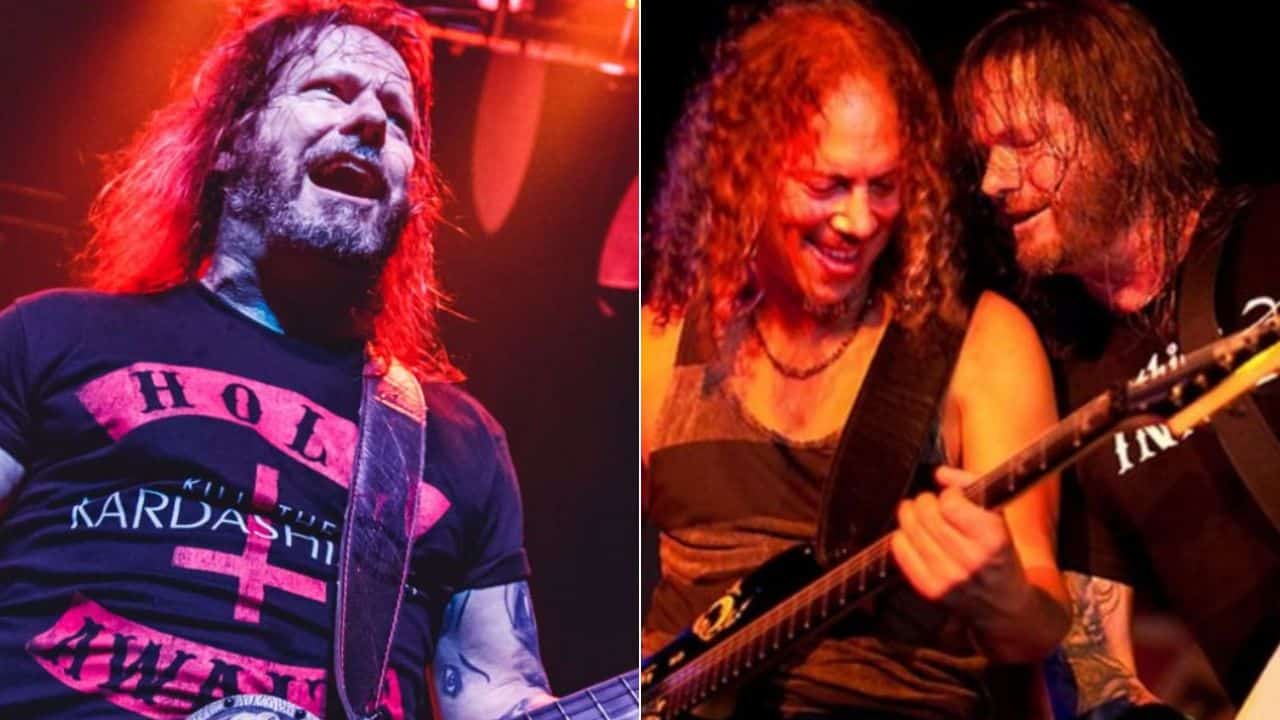 Exodus guitarist Gary Holt did a brand new interview with Mike Z on the Wired In the Empire radio show. Holt answers questions about his childhood friend and former bandmate, legendary Metallica guitarist Kirk Hammett.
Gary Holt, who has been on all of Exodus' albums so far, joined the band as a songwriter after Tim Agnello left the band in 1981. In the following years, he shared the guitar role with Rick Hunolt after Kirk Hammett, one of the founding members of the band, left the band to join Metallica.
Ranked #11 on Rolling Stone's list of The 100 Greatest Guitarists of All Time, Kirk Hammett formed Exodus with his friends at the age of sixteen. Before joining Metallica, considered one of the pioneers of heavy metal, Hammett took part in Exodus' debut album, 1982 Demo.
Anyway, Exodus guitarist Gary Holt was the guest on the last program of Wired In the Empire, hosted by Mike Z on 96.7 KCAL-FM radio. Mike Z asked Exodus and Slayer guitarist Gary Holt how he met ex-Exodus guitarist Kirk Hammett.
"The first time I met Kirk was in my high school music room, Richmond High, and Exodus came and played," Holt said. "Tom Hunting grew up, like, 50 yards from my house, across from a park, but he went to a different school — he went to De Anza High, where Kirk did. I knew Tom, I'd see him around, but I didn't know him that well.
"But I was really good friends with the other guitar player in Exodus, Tim Agnello, who I did know. And they came in and played in the music room, and it was awesome."
Gary Holt Says Kirk Hammett 'Taught Me The Basics And Some Chords'
Describing the practices of Exodus in the music room of the school as very special moments for him, Gary Holt admits that he realized that this is what he wanted to do, inspired by them, even though their performances were bad.
"Even though Kirk sang 'Another Piece Of Meat', and it was just really awful, as you can imagine — Kirk Hammett trying to sing Klaus Meine at his greatest; it was bad.
"But there was something about… Even though I'd been to many concerts, being in a room and hearing an electric guitar that up close and personal, it was kind of like a special moment for me, 'cause I'd never experienced it. I'd only seen guys onstage; I'd never stood five feet away. And it was killer. I totally [knew] that's what I wanted to do."
Gary Holt says he and Kirk Hammett have been close friends since they first hung out together to see Ted Nugent and the Scorpions, and he learned guitar basics and some chords from Kirk Hammett.
"And then we went to see Ted Nugent and the Scorpions together, and we became best of friends from that first time we hung out. And then he said, 'You wanna learn to play guitar?' And I said, 'Yeah.' And he taught me the basics and some chords.
"I think the first thing he ever taught me was some The Rolling Stones song and a couple of licks and all that, and six months later I was in the band."
Back in this past December, Gary Holt had recalled Kirk Hammett's joining Metallica. Saying that it was a horrible business decision for Kirk Hammett, Holt had shown off his surprise about the issue.
"I was mad for a minute [when Kirk joined Metallica], we all were," Holt recalls. "Kirk wrote everything in the early days, but I was starting to come up with my own riffs.
"We had a big party to celebrate at his mother's house in El Sobrante, and it was kind of like a passing of the torch. It put me in the driver's seat, and suddenly Exodus started going like that [makes speeding up motion with hand].
"Those tempos Kirk said Tom was playing too fast were no longer too fast, they were just the right speed.
"And obviously Kirk made a really horrible business decision to join Metallica, the worst choice ever, financially. I don't know what he was thinking!"