Foo Fighters Studio Albums Ranked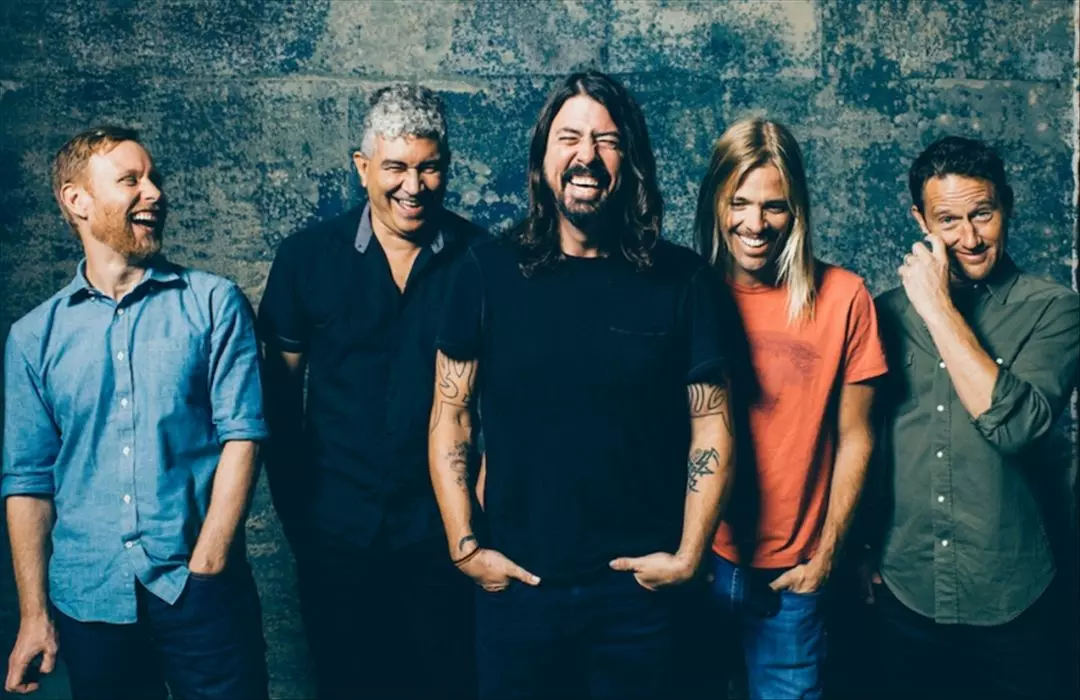 All images courtesy of Getty Images/Wiki Commons
As one of the iconic bands of the last 30 or so years, the Foo Fighters have established a reputation for being a savvy live band capable of bringing the heat.
Though inconsistent, the Foo's have managed to pile up ten mostly solid studio records starting with 1995's Foo Fighters and the last coming in the form of 2021's Medicine at Midnight. And while the band's setlist tends to be loaded with well-known hits and fan favorites, there's a lot in between that's ripe for evaluation.
While the future seems uncertain for the Foo Fighters in the wake of drummer Taylor Hawkins's death, if there's one thing the Foo's have been good at, it's picking themselves up off the deck when trouble hits. We might not know when the band's next studio record will hit, and it remains to be seen who will play drums, but in the meantime, the Foo's have left us with a lot to chew on.
What's more, even if they're not your cup of tea, it's undeniable that Dave Grohl is one of music's last old-school rock stars. Doing it his way, for better or worse, the Foo Fighters have soldiered on through all sorts of trials and tribulations. With that in mind, we run through the Foo Fighters' studio discography, ranking the band's ten offerings from worst to best.
Foo Fighters Albums Ranked
10) Medicine at Midnight (2021)
Serving as the Foo Fighters "COVID record," Medicine at Midnight dropped right in the middle of the pandemic. It's pretty sad that this record ended up being the dearly departed Taylor Hawkins' final studio record with the Foo's, as Medicine at Midnight is easily the band's most uninspired, filler-laden effort to date. At this stage of the game, the Foo Fighters seem to be a band with nothing left to say and zero imaginative ideas. Moreover, Medicine at Midnight's singles "Shame Shame," "No Son of Mine," and "Waiting on a War" did nothing to dispel that notion.
9) Concrete and Gold (2017)
Far from the Foo's most inspired effort, still, Concrete and Gold featured a few interesting moments. And while the production here is a bit murky, cuts such as "Run," "The Sky Is a Neighborhood," and "Dirty Water" harkened back to a more inventive time. Aside from that, Concrete and Gold comes off as a bit gimmicky, with guest musicians permeating the soundscape. And it must be said that when you've got two of the best drummers in the world, what's the point of deploying Paul McCartney on drums for a track? Instead of being "fun," it reeks of "please buy this record." Bad form, Dave.
8) Echoes, Silence, Patience & Grace (2007)
While the intent going into Echoes, Silence, Patience & Grace was to "explore the depths" of Dave Grohl's compositions, ultimately, this record reads like the beginning of the Foo Fighters era of cookie-cutter rock. Still, the record was nominated for five Grammy Awards and did feature some fun cuts, namely "The Pretender" and "Long Road to Ruin," which dominated the likes of Fuse, VH1, and MTV in the fall and winter months of 2007. In retrospect, Echoes, Silence, Patience & Grace isn't a bad record, but it plays back like a band beginning to grapple with its creativity.
7) Sonic Highways (2014)
What can one say about an album that Butch Vig produced, features many of the greatest musicians of the day, and was recorded in eight of the most elite studios in the United States? Well, in short, not as much as you'd think. I think Sonic Highways has a lot to offer and has aged well to the point that I like it post to post a hell of a lot more than I did back in 2014. I find the inclusion of Rick Nielsen on "Something from Nothing" funky and fun, and Joe Walsh adds a lot of flair to "Outside." And, of course, Butch Vig's production work is first-rate and, in many ways, saves Sonic Highways. But too much filler, too much movement, and too many ideas that feel unfinished kept Sonic Highways from fully taking off.
6) One by One (2002)
The backstory of One by One is perhaps more interesting than the album itself, and that's saying something as One by One is quite a stirring listen. What I like most about One by One is the in-your-face sonics, which are loud, and have the guitars and Grohl's voice upfront, something the band would lean on too heavily as they moved forward. In retrospect, tracks like "All My Life" and "Times Like These" are some of the Foo Fighters' best, so it's a shame that the record is sometimes a touch inconsistent. As for the backstory I mentioned: the Foo's nearly broke up before this record, with Grohl even wandering off to play with Queens of the Stone Age for a bit. If nothing else, One by One was essential to the Foo's trajectory as the album showed they could still work together.
5) In Your Honor (2005)
In Your Honor holds a few unique distinctions of being the Foo Fighters' only double album; to be fair, that's probably a good thing. The idea of having one side be electric and the other acoustic was great at face value, but the execution was miscalculated due to a failure to self-edit. Moreover, given that the Foo's sound isn't exactly diverse, listening to 20 songs worth of their music can be a bit tiring. Despite that, In Your Honor is a quality record that features many of the band's best songs. Tracks such as "No Way Back," "DOA," and "Best of You" are not only some of the Foo Fighters' most well-known but also some of their most cohesive.
4) There Is Nothing Left to Lose (1999)
The first recorded at Grohl's now infamous Virginia home studio, There is Nothing Left to Lose, still plays as one of the better records of the '90s. Recorded during a tumultuous period when the Foo Fighters were operating a trio featuring Grohl, Taylor Hawkins, and Nate Mendel, one would think the instability would lead to a lack of quality. Quite the contrary, as "Stacked Actors," "Breakout," "Learn to Fly," and 'Gimmie Stitches" all played their part in an outstanding record. In truth, the Foo Fighters' recording existence has been a bit odd, with their first three records being world-beating and the rest hyper-inconsistent. For a long time, I thought that There Is Nothing Left to Lose would be the last great Foo Fighters record, and for a long time, I was right.
3) Wasting Light (2011)
As alluded to, by 2011, I'd resigned myself to the notion that the Foo Fighters were a once great, now mediocre band in the studio, but one who could put on a hell of a live show playing their greatest hits. And then 2011's Wasting Light happened, shaking up what I thought I knew about the Foo's ability to summon old ghosts. With Pat Smear back in the band, the Foo's live shows had become denser and very compelling, but to this point, he hadn't returned to the studio. But Smear made his presence known on Wasting Light, which made all the difference. Also integral to the studio resurgence was producer Butch Vig behind the console, who seemed to draw a level of creativity out of Grohl not seen in over a decade. But what I love most about Wasting Light is how bombastic it is, with "Bridge Burning," "Rope," and "These Days" being prime examples of Grohl's ability to pull a rabbit out of his hat when pushed to do so.
2) The Colour and the Shape (1997)
The trendy pick for the "best Foo Fighters record" has long been The Colour and the Shape, and it's probably the band's most universally loved and listened-to record to boot. But none of that matters to me, as three songs do not make a record. But alright, I'll be fair, The Colour and the Shape has 13 songs, and at least half of them are very good (if you haven't figured it out, almost no Foo Fighters record is entirely good from start to finish). I'd be lying if I said that "Monkey Wrench" and "Everlong" aren't two of the best tracks of the '90s. I'd also be lying if I didn't say that "My Hero" and its cheesy video weren't overrated and overplayed. But the most exciting thing about The Colour and the Shape is that Dave Grohl – control freak that he is – did former Sunny Day Real Estate drummer William Goldsmith dirty and re-recorded most of the drums himself behind Goldsmith's back.
1) Foo Fighters (1995)
Perhaps it's a shock to some, but the Foo Fighters' 1995 self-titled debut record is the band's best record. Initially, "Foo Fighters" was a working title that Grohl picked for his solo project, and it stuck when he was unable – or didn't care – to come up with something else. Written and recorded entirely by Grohl alone, Foo Fighters is quite simply the only Foo's record that's great from start to finish. There's no filler here, as best exemplified by "This Is A Call," "Big Me," Good Grief," "I'll Stick Around," and "Exhausted." Many of these songs came to Grohl while using heavy drugs, drinking, and generally mourning Kurt Cobain's suicide, coinciding with Nirvana's end. With nothing left to lose and probably assuming his career was in the toilet, Grohl crafted an album to remember, altering his trajectory as a working musician on multiple levels. As good as Foo Fighters is, it's frustrating to think that success led to such diminishing returns for Grohl the Foos.
– Andrew Daly (@AJDWriter88) is a contributing writer for Metal Castle and may be reached at andrew@vinylwriter.com