Dave Grohl Admits His World Turned Upside Down When Kurt Cobain Died And Nirvana Was Over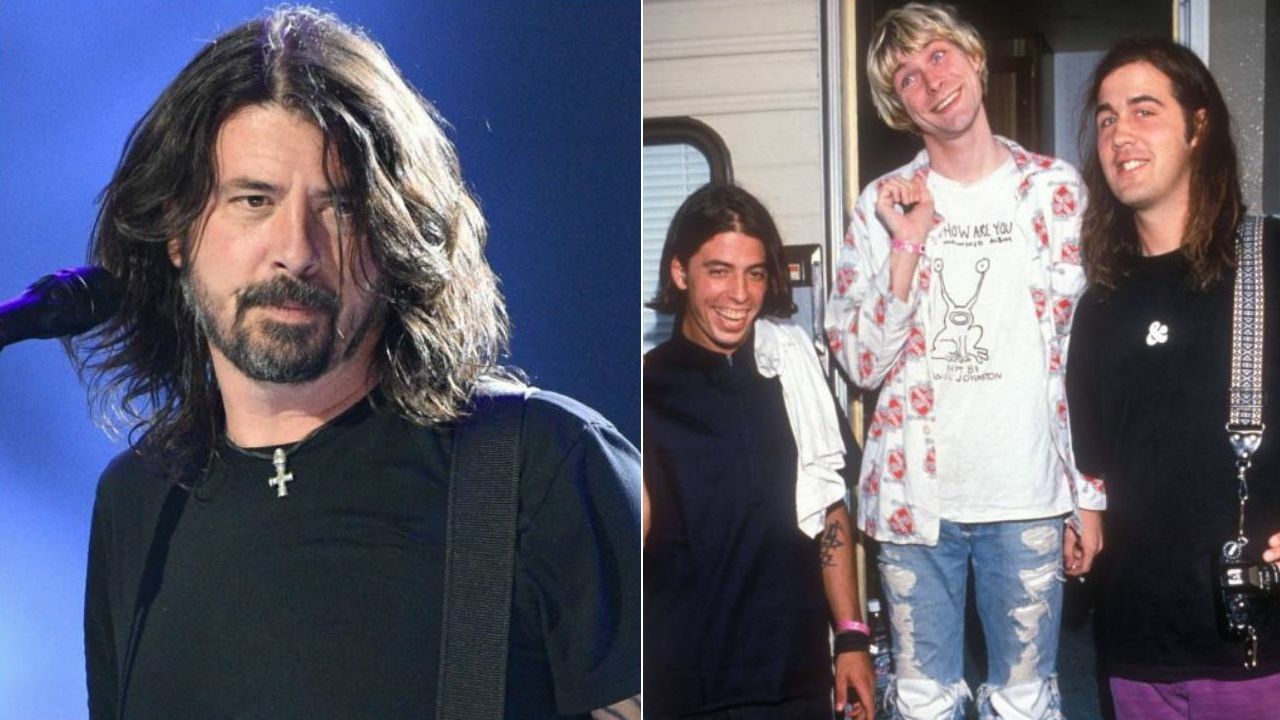 Former Nirvana drummer and current Foo Fighters bandleader Dave Grohl recalled the time his late bandmate Kurt Cobain died and admitted that his world turned upside down when Nirvana was over.
The 7-year grunge band Nirvana disbanded in 1994 when the band's icon Kurt Cobain died. Throughout its career, Nirvana released three studio albums, five live albums, twenty-one singles, six video albums, and many more things. Since its debut, Nirvana has sold over 75 million records worldwide.
Before he formed Foo Fighters, Dave Grohl was the drummer and the backing vocalist of the American rock band Nirvana from 1990 until the band's disbanding in 1994. During his tenure with the band, Grohl had appeared several efforts of the band, including 1991's Nevermind, 1992's EP Hormoaning, 1993's In Utero, and many more.
However, he recently appeared on Amanpour And Company to recall how he formed his band Foo Fighters, the time Kurt Cobain died and Nirvana was over. Mentioning how he found the motivation to restart his career and form the Foo Fighters after Kurt died, Grohl revealed difficult times.
"After Kurt died and Nirvana was over, our worlds were just turned upside down," Grohl says. "I don't know if anyone knew how to continue or what to do next.
"I personally didn't have any interest in music. I put my instruments away. It was hard for me to listen to the radio, which was very unlike me.
"And after a few months, I decided I would go on this kind of soul-searching trip in the middle of nowhere. I just wanted to be away from everyone and everything."
Dave Grohl Says He Formed Foo Fighters After An Emotional Moment
Later then, the frontman continued to his words by remembering how he decided to form Foo Fighters after all those difficult times. Saying that he wanted to run away from the thing that he disturbed, Grohl stated that Kurt Cobain looked at him wherever he went.
"So I went to one of my favorite places — the Ring Of Kerry in Ireland, where I'd been before," Grohl continued. "And it's entirely remote; there's nothing there. It's just country roads and beautiful scenery.
"And I was there driving down a country road and I saw a hitchhiker in the distance and I thought, 'Well, maybe I'll pick him up.' And as I got closer and closer, I noticed that he had a Kurt Cobain t-shirt on.
"So even in the middle of nowhere, I had Kurt sort of looking back at me. And that's when I realized, 'I can't outrun this. I have to go home. I have to get the instruments back in my lap and I have to keep playing music because it saved my life my entire life, and I think that it might do it again.'
"And I went home and started the Foo Fighters."
Elsewhere in the interview, Dave Grohl has mentioned his new book The Storyteller: Tales Of Life And Music and remembered how he wrote Kurt Cobain's chapter. Saying that it was difficult, Grohl added that he was scared to write it.
"I was scared to write it. It's one thing to write about getting stitches when you're 12 years old or it's one thing to write about taking your kids to the daddy-daughter dance, it's another thing to write about something that you've barely spoken about with people close to you.
"I mean, I revealed some things in that story that I've never told my closest friends. I was scared to write it.
"First of all, I knew what people wanted me to write," he continued. "I think that people have a lot of unanswered questions — as do I.
"So I decided to write in a much broader emotional sense — the process of loss or grief and mourning, and how that's determined and how it differs from person to person. Yeah, it was a tough one to write."