Black Sabbath's Ozzy Osbourne Devastated After Eddie Van Halen's Sudden Passing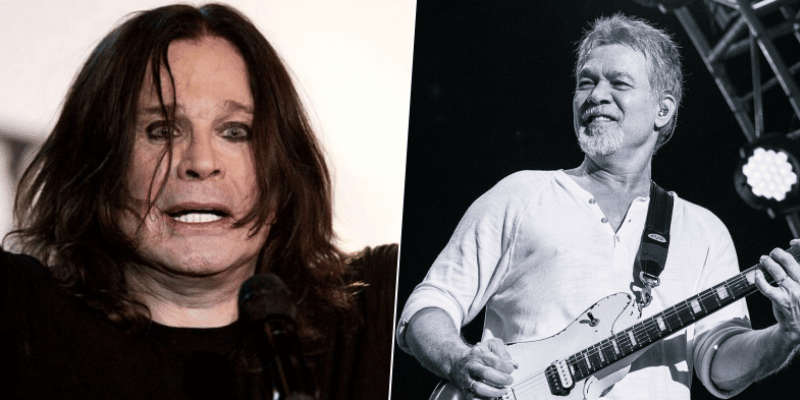 Black Sabbath man Ozzy Osbourne, also known as The Prince of Darkness, has shared a touching letter for one of the greatest musicians of all time and paid his tribute to him, Eddie Van Halen, who died at the age of 65 due to cancer.
As many of you guys know, Eddie Van Halen was struggling with cancer for well over a decade. He has been in and out to the hospitals over and over again during his disease. Also, recently, he underwent a round of chemo and tried to recover, but he failed.
According to the reliable sources, Eddie Van Halen's wife Janie Van Halen, his son Wolfgang, his ex-wife Valerie Bertinelli, and Eddie Van Halen's drummer, Alex, was alongside him just before his passing.
Recently, Black Sabbath legend Ozzy Osbourne has shared a touching letter through his social channel to pay his tribute to Eddie Van Halen and stated that he was devastated after Eddie's tragic passing. He described Eddie as one the nicest guys he ever worked.
In his letter, Ozzy Osbourne wrote: "Eddie Van Halen was one of the nicest guys I ever worked with and we shared so many laughs together. His influence on music and especially the guitar has been immeasurable. He was an absolute legend. Eddie, I'll see you on the other side, my friend. Love, Ozzy."
You can find Ozzy's letter below.
. @EddieVanHalen was one of the nicest guys I ever worked with and we shared so many laughs together.   His influence on music and especially the guitar has been immeasurable.  He was an absolute legend.  Eddie, I'll see you on the other side, my friend.  Love, Ozzy.

— Ozzy Osbourne (@OzzyOsbourne) October 6, 2020