Slash Reveals If Guns N' Roses' Sweet Child O' Mine Riff Was A Warm-Up Exercise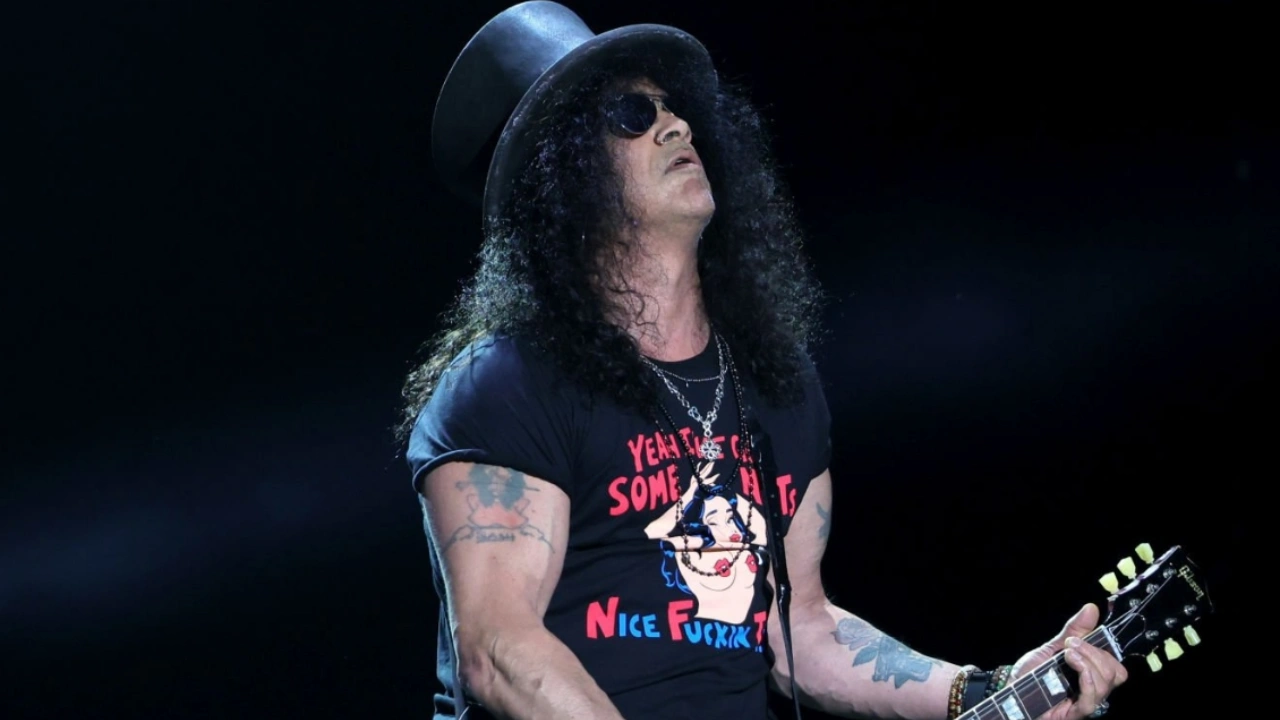 In his recent chat with Eddie Trunk, Slash made the final comment on the rumor that Guns N' Roses classic Sweet Child O' Mine's riff came during a warm-up exercise.
Sweet Child O' Mine is a massive success of Guns N' Roses, no doubt. It gave the band making its firsts during its early years. Appearing in the band's debut studio album, Appetite for Destruction, the song was ranked number one on the Billboard Hot 100 chart in the late 1980s. It is still Guns N' Roses' only United States number-one single as of today.
Over the years, many stories have been told about the Sweet Child O' Mine riff. One of them came from the riff owner Slash in 2007, telling Guitar Edge that everything started when he started to play the intro riff. Meanwhile, the other members were playing chords behind the intro riff. And then, it evolved something, but Slash thought of it as a joke. Furthermore, in 2012, Slash said he "just happened to come up with it while we were all hanging around together."
However, recently, Slash once again touched on the issue to reveal whether the Sweet Child O' Mine riff came from a warm-up exercise. Saying that he was around Guns N' Roses house to create something new, Slash added that it wasn't a warm-up exercise (via Loudwire):
"Somebody else said that and it just became one of those things. It wasn't a warm-up exercise. I was sitting around the house where Guns [N' Roses] used to live at one point in '86 I guess it was and I just came up with this riff. It was just me messing around and putting notes together like any riff you do. You're like, 'This is cool,' and then you put the third note and find a melody like that. So it was a real riff, it wasn't a warm-up exercise. That's how it started."
He then said his bandmate Izzy Stradlin started to complete the fills. Axl heard it, and everything has done.
"And then Izzy started playing the chords behind it and then Axl heard it and it started from there."
Slash also commented on the song's massive success. He said that nobody expected the song to come up as a worldwide hit.
"At the time, it was just a song. Nobody had any designs for it to be a big hit or anything like that. It was just a song that we put together that was cool before we actually made the Appetite for Destruction record. So we put it on the record like that and then the next thing you know at some point after the record had been released for a while, that song all of a sudden just took off."
He glad they had a song like that:
"We're sort of blessed that we have something that's become as memorable as that. You can't really mock that. You have to appreciate that you have something like that in your career that you have a song that is really that effective. So it's cool."
Guns N' Roses is set to play at Hyde Park on Jun 30, 2023, in London, GB.