Nita Strauss Reveals Little Known Fact About Alice Cooper's Wife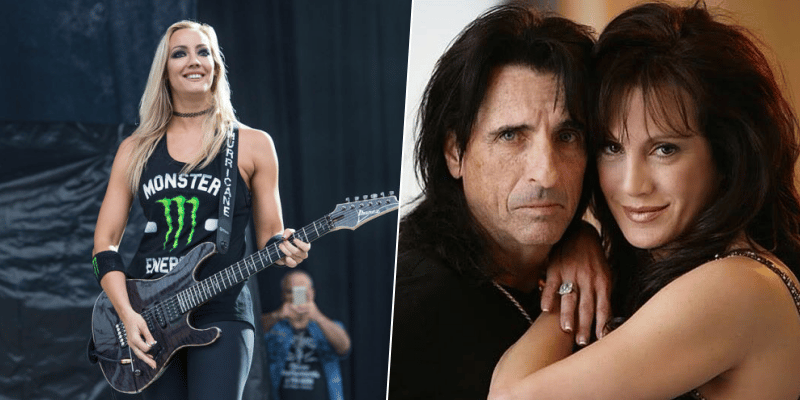 The American talented musician Nita Strauss, known for the touring guitarist of the Alice Cooper, has just shared a new pose including the dancer Sheryl Cooper, also known as the wife of the Alice Cooper, and revealed a rare-known fact about her.
In the photo taken in Slovenia, beautiful artists were walking backstage, and they were smiling while looking at each other.
When Nita sent the post, she talked about the dancer and asked fans that to celebrate the 64-year-old dancer's birthday in a special way. Nita Strauss described her as her "other mother" and sent her respect to Sheryl Cooper.
You can read what Nita Strauss wrote for her below.
"Please join us all in wishing the happiest birthday to the matriarch of the Alice Cooper tour, the most psychotic health care worker on the planet, tour sit up champion, Mademoiselle Guillotine, Sheryl Cooper!!⁣
⁣
"Little known fact about the illustrious Mrs Cooper: She plays all the dancer parts in the show today, complete with complete makeup and wardrobe changes in under one song- just as she did when she started touring with Alice's band in 1976. Talk about a TOTAL PRO!!!
⁣
"Feels strange to not celebrate your birthday on a summer tour as we usually do, but I hope you're having the best day!! I feel so blessed to have you as my 'other mother!'
"Here we are sharing our usual post show catch up in Slovenia last year. Hopefully we'll get to do this again sooner than later!!⁣"
As a response to the post, fans joined Nita Strauss and celebrated the successful dancer's birthday. In addition to fans, Sheryl Cooper has also commented on the photo and wrote the following message:
"You just made my birthday even more special Nita. Sending tons of love from your Other Mother!"