Foo Fighters' Dave Grohl Recalls His Reaction To Manager Who Said He Need To Be Better Than Metallica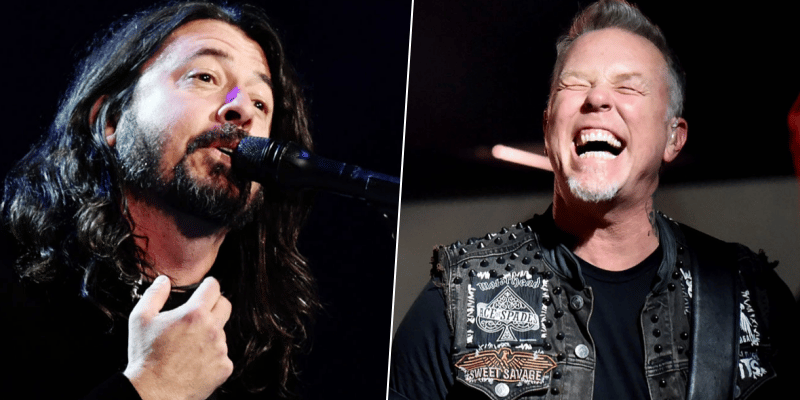 The American rock band Foo Fighters singer Dave Grohl made his recent appearance on the Entertainment Weekly and recalled his ending jamming with the rock band Led Zeppelin guitarist Jimmy Page and bassist John Paul Jones.
During an interview, the successful musician has also remembered a weird request that his manager asked him. He stated he was asked that he need to be better than the American heavy metal band Metallica during the show.
Dave Grohl remembered those days by saying the following words:
"It all started at the Live Earth benefit that we played in, I think, 2006 or 2007. It was in multiple cities around the world, but we were invited to play at the London gig, which was at Wembley Stadium, and the list of performers was bananas.
"It was Madonna and The Beastie Boys and Genesis and Metallica and the Pussycat Dolls; there were so many artists. And we just assumed that we would be at the bottom of the bill because I imagined like at most festivals that the lineup was based on popularity.
"It turned out that a lot of those bands had other festivals they had to get to that night – the summer festival season in Europe is crazy, so every weekend is a different country and every country has a different festival."
When he remembered his manager's request, Dave Grohl replied to him by saying that it was not gonna happen. He also added what they played during the show.
"But anyway, I was terrified. And I remember before going on, my manager John Silva pulled me aside and said, 'I just need for you to do one thing for me. I just need for you to be better than Metallica.' [Laughs] I said, 'That's not going to happen.'
"But we decided since we only had 20 minutes on stage that we would do what Queen did at Live Aid, which was to basically play five of our most recognizable songs that everyone could sing along to.
"And as we walked onstage the sun was just going down so the lights had just started coming up and we basically did an abbreviated version of a greatest-hits set – so it was 'My Hero,' and it was 'Everlong,' and it was, oh fuck, I don't know, 'Learn to Fly'? Just the big singles.
"And in the middle of the set, I jokingly announced to the audience that we would be back to play Wembley multiple nights. I was kidding! Because at that point, we had never even headlined a stadium."
Dave Grohl rocks the crowd under the name of Foo Fighters since 1994.