Alice Cooper Respects The Rolling Stones: "I Would Open Them When I Heard Politics"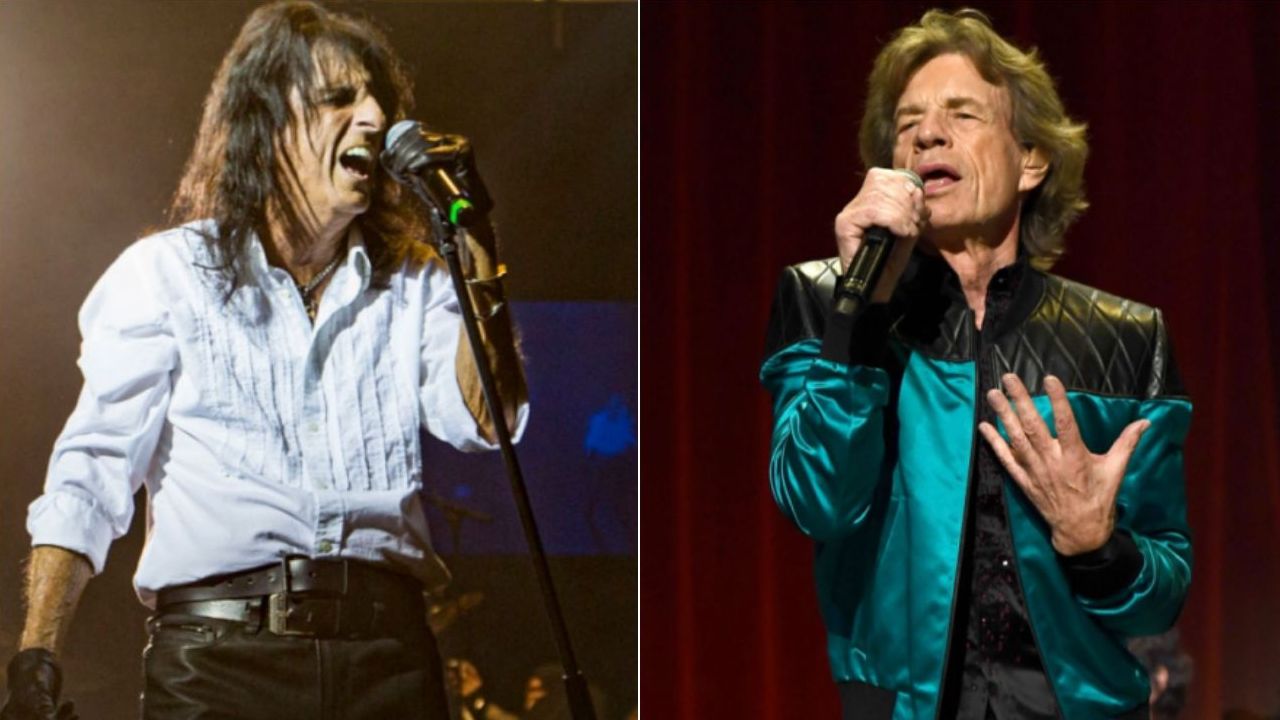 The world-known rock legend Alice Cooper opened up about his honest thoughts about politics and admitted that he would open The Rolling Stones when he heard his parents were talking about politics.
The Grammy Awards-nominee rock icon Alice Cooper has been rocking his fans since 1964. Having a raspy voice, Alice Cooper is considered by rock and roll fans and listeners to be The Godfather of Shock Rock. He is known for his crazy shows that features stage illusions, including guillotines, electric chairs, reptiles, dueling swords, and more.
Debuted in 1975 with Welcome To My Nightmare, Alice Cooper has twenty-one studio albums in total. He also has seven studio albums with his solo band. When he released his debut with his solo band in 1969, named Pretties For You, his seventh and final album was 1973's Muscle of Love. As of 2022, Cooper has sold more than 50 million copies worldwide.
On the other hand, the London-based rock band The Rolling Stones is one of the most iconic rock bands in history. Releasing 30 studio albums at press time, The Rolling Stones is the most enduring band of the rock genre. Receiving a Rock and Roll Hall of Fame induction in 1989, The Rolling Stones is one of the best-selling music artists of all time, with over 200 million record sales.
However, during his recent appearance on Creative Loafing Tampa Bay, Alice Cooper mentioned his view on The Rolling Stones while talking about politics. At first, the singer commented on his relationship with the outspoken Ted Nugent and said that Nugent has always been the mouth that roared.
"Ted and I grew up together in Detroit, and he's always been the mouth that roared," Cooper said. "When he gets going, nobody can stay with him. I kind of look at him as his own entity."
Alice Cooper Admits He Listened To The Rolling Stones Every Time He Heard Politics
After his comment about Nugent, Alice Cooper continued by revealing his thoughts about politics. Saying that he hates politics, Alice Cooper admitted that he turned The Rolling Stones' sound on every time he heard his parents were talking about politics. He also stated that rock and roll should be anti-political.
"I don't ever talk politics," he continued. "I hate politics. I don't think rock and roll and politics belong in the same bed together, but a lot of people think it does — because we have a voice, and we should use our voice.
"But again, rock and roll should be anti-political, I think. When my parents started talking about politics, I would turn on The Rolling Stones as loud as I could. I don't want to hear politics, and I still feel that way.
"My music and my show is designed to give you a vacation from CNN, you know what I mean? I'm not preaching anything up there, and I'm not knocking anybody. If I do a thing like on 'Elected', which we would always do during the elections, and I'd bring out [Donald] Trump and Hillary [Clinton] to fight, and both of them would get wiped out!
"That's what was funny about it. If you're in the political theater, you'd better be able to take a joke. So, that's okay. I don't mind the satire of it, but I don't ever go up there and tell you who to vote for."
Elsewhere in the interview, Alice Cooper paid his tribute to the late singer Ronnie Spector, who worked alongside Alice Cooper on musician's Muscle Of Love album. Saying that she was the coolest person in rock, Cooper added that she had the greatest voice.
"She was the coolest chick in rock," Cooper comments. "No way anybody was ever cooler than her. She was truly '60s—switchblade in her hair, because it was all ratted up on top. She was one of those chicks that was like a '50s gang chick.
"And yet, very hip, I mean, she just had the greatest voice. When her voice came on that song she did with Eddie Money, it was exactly her vibe. If he wouldn't have had her on there, I would have called him up and said, 'are you crazy? Get Ronnie Spector on there!'
"But when I got around there, I had her singing with Liza Minnelli and the Pointer Sisters, and it was a great combination of voices in there."
Back in February 2021, Alice Cooper had praised his bandmates. Touching on the latest solo album he released in 2021, Detroit Stories, Cooper had excited fans about the future of the band.
"Out now," he said. "So now we've gotta think what's next. And what's next to me is showing off this band. And I think that the only way to do that is to take it on the road, write songs now but rehearse them during soundcheck on the road, and, at some point, on the road, record the whole album live in one of the venues that we're doing."
"With this band, the whole idea is to show off how tight the band really is. So if we write the songs, rehearse them on the road, record it on the road, and call the album 'The Road' or just 'Road', really, that would be the concept for the whole album. And stories about the road."