The talented singer Sophie Simmons, who is known as the daughter of the rock band KISS bassist Gene Simmons, has added two different Instagram stories to her account and reacted to the seven-time Grammy Award-winner musician, Billie Eilish.
As you know, the 19-year-old musician has posed in front of the cameras for her new collaboration with Vogue. Although she is so young, Billie achieved huge successes, including two American Music Awards, two Guinness World Records, three MTV Video Music Awards, and one Brit Award.
Recently, Sophie Simmons has shared her opinion on Billie's appearing on Vogue and showed off she liked it.
In the first story, Sophie has sent an Instagram post of Billie Eilish's Vogue collaboration. She has sent two words to describe her feelings.
"Fucking yes," Sophie said.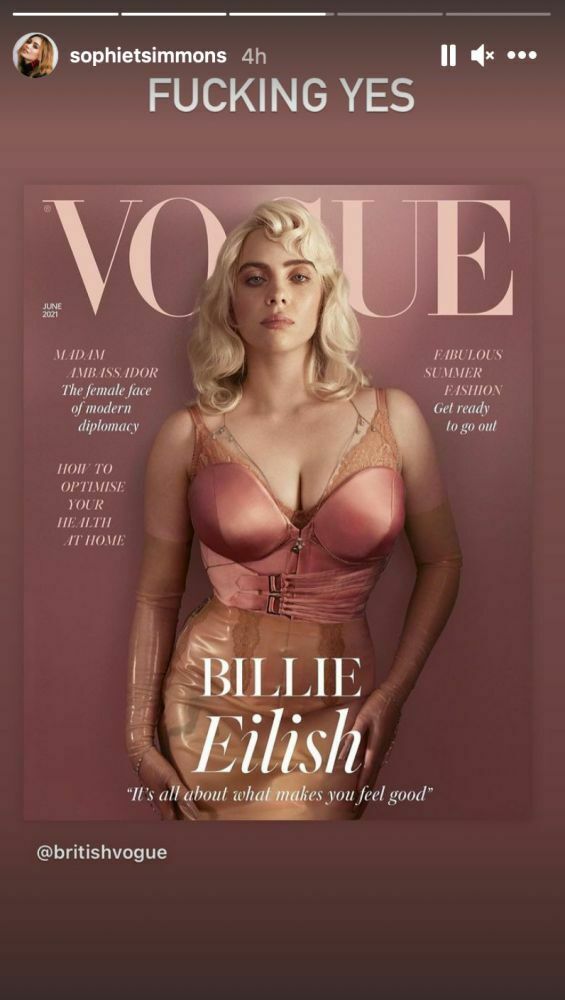 Later, she added one more story to her Instagram account and has sent a post shared by Billie Eilish. In the post, Billie was sharing her thoughts about her collaboration.
It looked like that Sophie Simmons liked Billie Eilish's new appearance.