Grace McKagan, the daughter of the American rock band Guns N' Roses bassist Duff McKagan, went on braless in public and took to her Instagram page to share it with her 84k followers.
As some of you who follow Grace on Instagram might know, the beautiful model has been updating her social channels to show off her beautiful body with her fans.
This time, she surprised them by sending a braless photo in her backyard. With the photo, the daughter of Duff McKagan, Grace, proved that how a brave girl she is.
SHE POSED BRALESS IN THE BACKYARD
In the social media photo, Grace McKagan was wearing nothing on top and went on braless to pose.
When her fans detailed the photo, they've seen that she closed her breasts with her hands.
She wore sunglasses to add fashion to her beauty.
Grace wore jeans on the bottom to combine her clothes.
BRAVE WORDS
When Grace McKagan has sent her post, she added some brave words in the caption.
"Conservative vibes," she captioned.
Also, in the comments of the photo, her followers and close friends sent some emojis and words to react to her beauty. When her sister writes, "Yummy yummy," her friend said, "Hot!"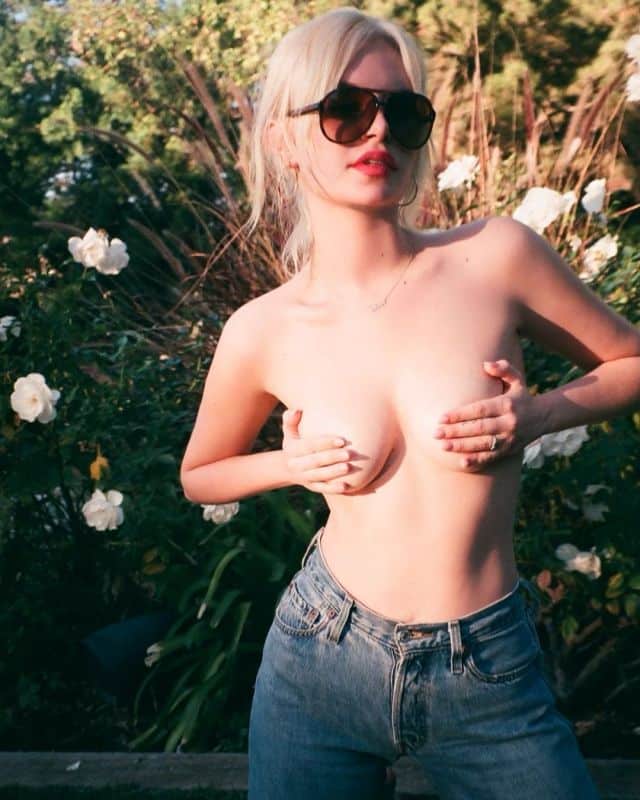 A couple of days ago, on March 27, Grace has sent another brave photo on her Instagram. She sent a photo while wearing a blue bikini.
She said when she shared the photo that blue is her color.