The world-known heavy metal band Motley Crue's legendary drummer Tommy Lee's wife, Brittany Furlan Lee, also known for her internet personality and funny TikTok videos, appeared to admit unheard facts about her and showed her stunning body in that way.
The 34-year-old artist, who uses social media incredibly active and to contact her fans by making some funny videos and photos, is reminding her fans day by day that her body became a diamond when she wore bikinis.
However, in a recent post she took on Instagram, Brittany has appeared to talk about her unheard fear and to show her gorgeous body in a bikini, once again. With the post, Brittany also contacts people who scare to face their fears.
In the photo, the talented comedian was posing on the rock. She was spreading her legs to pose hot and put a flower on her right ear. Her body was looking gorgeous as her previous poses, although she has a little makeup.
When Brittany mentioned her unheard fear, she stated that she has a hard time to leave her house. She also added her words that whenever she wants to travel, her anxiety spikes.
In her social media caption, Brittany wrote: "Not many people know this about me, but I have a really hard time leaving the house. For some reason as soon as I leave my house my anxiety spikes and I just want to get back home (to the safe space). It makes traveling and going on trips really hard on me. Every time I used to go on a trip I would have a panic attack, at least one really bad one that would make me never wanna go on a trip again.
"I didn't share this with the world until recently. Until I discovered @terravita_cbd I would end up having to take some sort of benzo just to be calm but then I was so calm I'd just want to sleep.
"The RELAX formula has ashwhaghanda root mixed with cbd and it's enough to make me calm but not pass out from tiredness. It's been so helpful to me so I'm sharing this for anyone else who struggles.
"My therapist told me that you cannot let the anxiety win, the only way out is through. So even though you're scared, you have to go, you have to do what you have to do, you can't let it beat you and control your life. Sending you all so much love."
You can find her pose below.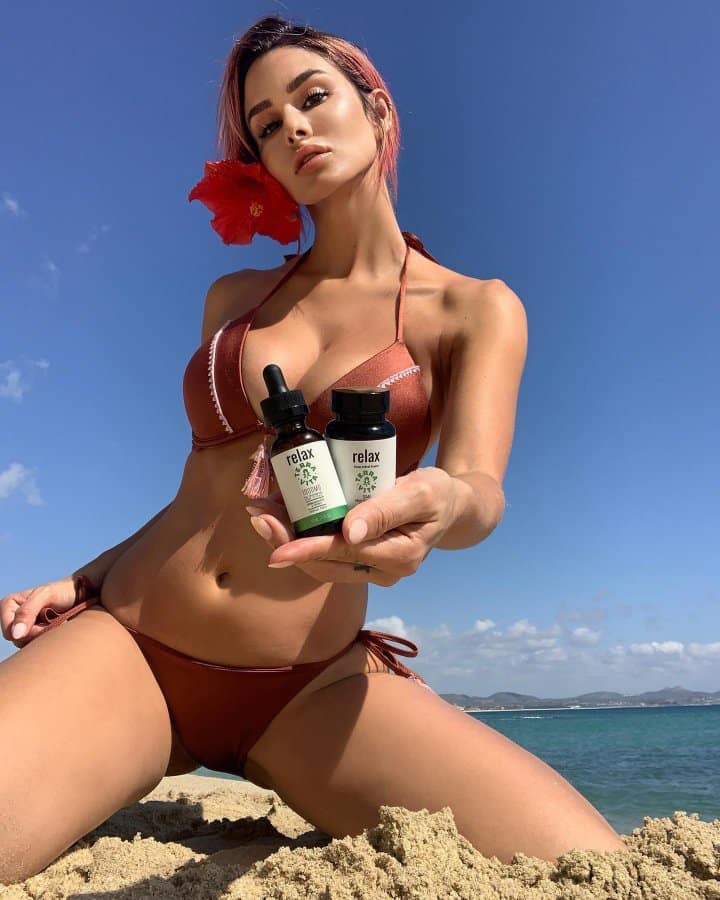 Click here and reach the post.